Win Charcoal Portrait by Richard Christian Nelson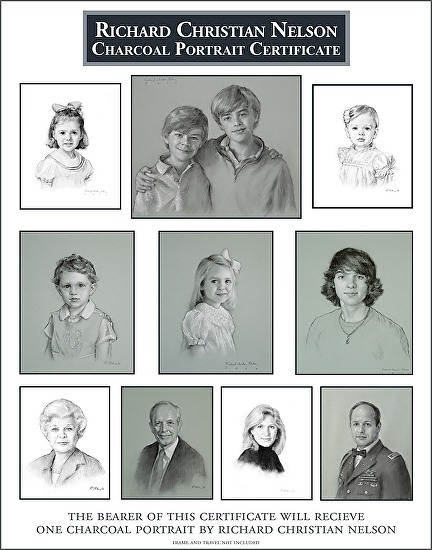 Click here to purchase one online ticket, or click here to purchase two online tickets. Feel free to text Kim at 828-817-3783 for verification that your tickets made it into the bucket on time. Email us with your name, address and cell phone to expidite ticket entry. Online ticket sales end at 7 pm today.
Skyuka Fine Art is proud to offer a chance to "Win a Charcoal Portrait by Richard Christian Nelson". Call, stop by the gallery, email us, or find tickets online, to purchase your chance at winning your very own charcoal portrait by this internationally recognized and award-winning portrait artist. Tickets are on sale now for $25 each, or two for $45.
The winner will be selected at 8pm on May 11th during the second "Tryon Gallery Trot" of the season in downtown Tryon from 5-8pm. There will be a second ticket drawn for a certificate of 50% off of a commissioned portrait.
You do not need to be present to win, but you might want to be there for a special treat from the gallery for all ticket buyers who are present. With Mother's Day the next day, what better gift could you give than the chance to win a one-of-a-kind portrait by this amazing artist?
Contact Kim Nelson to buy your tickets via email or phone.
info@skyukafineart.com, 828-817-3783.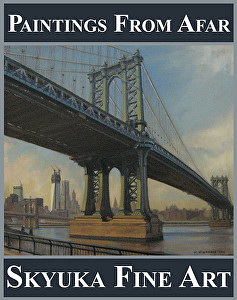 "Paintings From Afar" continues through May. We all love to travel, and this show will take you to places familiar to you, places you could only dream of, and places you wish to return to. This will be a group show including the works of Richard Christian Nelson, Michael McNamara, Keith Spencer, Jim Carson, William and Anne Jameson, Gary Cooley, Richard Oversmith, Linda Cheek, Dawn Whitelaw and Bill Lovett. As well as historical works such as works by Felix Von Schiller, German 1805-1853.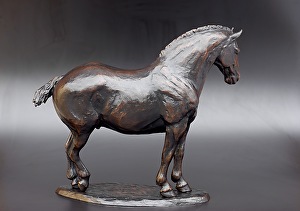 Tucker Bailey "Percheron Draft Horse"
Skyuka Fine Art Gallery is committed to showing exceptional artwork from the present and past. Please visit us in Tryon, North Carolina.
We're open Tues-Sat 10-5pm, or contact Kim Nelson at 828-817-3783. Owned and operated by Kim and Rich Nelson. Rich is an award-winning, nationally known artist and instructor who has recently opened up a working studio in the River Arts District in Asheville, NC. Visit his website to enjoy his outstanding work.

Tryon Gallery Trots return on April 13th, 2013 and continue with 'Second Saturdays' through October! Click here to go to their Facebook page.