Block House Steeplechase Equestrian Exhibit opens May 1st!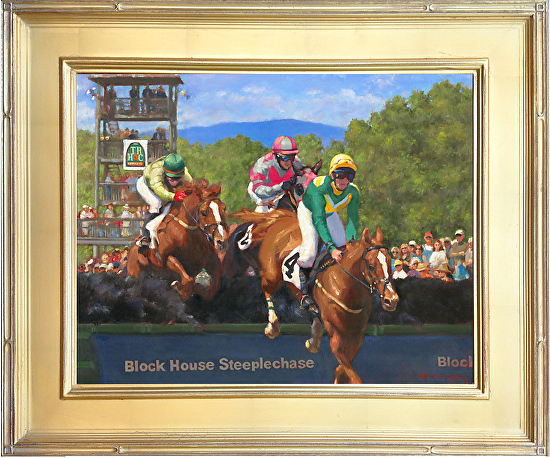 In honor of Tryon's 69th Block House Steeplechase Race, and in collaboration with Tryon Riding & Hunt Club, and the Tryon Fine Arts Center, Skyuka Fine Art is proud to present its third fundraising equestrian art show. Opening reception May 1st, 5-7pm at TFAC - 34 Melrose Ave. in Tryon. The show runs though June 6th. Temporary display: May 2nd (race day!) at F.E.N.C.E in the hospitiality tent all day. Come and ask for Kim to see the art in the tent! Or call: 828-817-3783 Click here for more info on this benefit for TR&HC.

Our Spring sale is still on through next week. Come in to see what last minute artwork you can take advantage of with great discounts being offered, some as much as 50% off! Like this piece by Rich-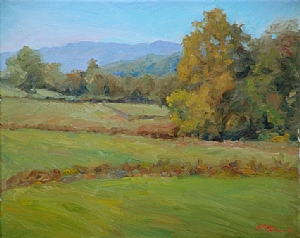 "Etowah Afternoon View" 16 x 20 regularly $1950 on sale 50% off=$975
Or this one...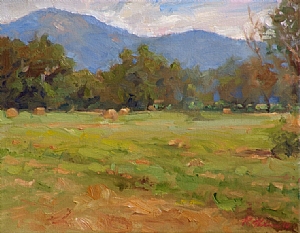 "Tryon Peak With Haybales" 11 x 14 regularly $950 on sale 50% off=$475
Richard Christian Nelson's "Emily & Kapers"
Commission Richard to paint your loved ones today; two legged, four legged, or both!
Recently Sold: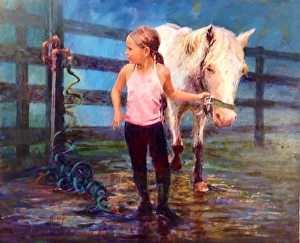 Mary Neely "Love & Trust" Richard Christian Nelson "His & Hers"
We are so pleased to announce that Skyuka Fine Art is growing! Come see us out at the new world class facility; Tryon Resort and International Equestrian Center. We had a cabin during their "2014 Fall Session" and plan to move into their Legends Clubhouse in the late Spring of 2015!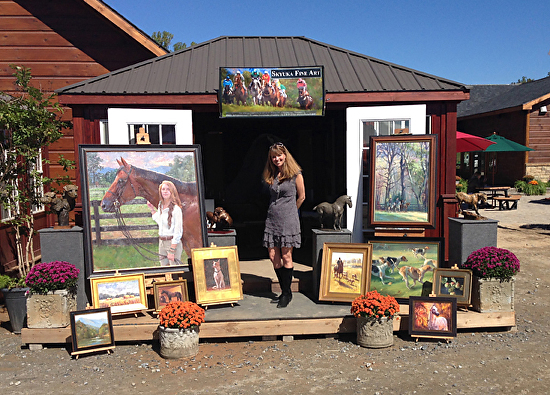 Please contact Kim at info@skyukafineart.com or call 828-817-3783 for more information.
Skyuka Fine Art Gallery is committed to showing exceptional artwork from the present and past. Please visit us in Tryon, North Carolina. We're open Tues-Sat 11-5pm, or contact Kim Nelson at 828-817-3783. Owned and operated by Kim and Rich Nelson. Rich is an award-winning, nationally known artist and instructor who has recently opened up a working studio in the River Arts District in Asheville, NC. Visit his website to enjoy his outstanding work.