"Friends and family" is Linda Haynes' reply when I asked her to tell me about her and Andy's art collection. This month I spent the most lovely evening at Lynncote, their ancestral home, and by the time I left, I felt very much like a part of their collection; "friends and family."

The history I had a glimpse into that evening is remarkable, mind boggling even, starting with their home which was built by Andy's great grandparents, Emma and Charles Erskine. Lynncote, we've all driven by it, wondered about it, imagined what it must be like and how gorgeous it must be. I'm here to tell you that it is all that and more. Tryon at its best. Truly. A Tudor Revival with stone and stucco, not surprisingly, it is on the National Registry of Historic Places.

I arrived on time, which is noteworthy for me, as I was thrilled the Haynes accepted my invitation to interview them. Driving up their hill I found myself slowing down to a snail's pace just to take all the sights in. Well manicured tiers of terraced landscaping pepper the property. Flagstone paths and retaining walls line everything. Built-in flower containers abundant with flora are artfully placed. The stunning 270° mountain views over 20 acres all begged to be gazed upon as the driveway winds you up, up and around. I didn't know what to look at first!

As you curve up towards the front of the house you get to drive through a charming stone arch which got me imagining the different vehicles though history that had also come through that arch. I tried to picture their interesting passengers; artists, authors, musicians and the like. I parked and took note of the placement of the house, high atop a hill. I already knew a bit of the home's history and this is why I took note of where I was.

The home was designed in the 1890's by architect Richard Sharp Smith (who also assisted with the Biltmore Estate) but burned down in 1915 and then was rebuilt in 1927. A chimney fire was to blame, and the home slowly smoldered down over the course of many days because there was no way to get water up the hill to put the fire out at that time. I imagined how sad it must have been to the Erskines; to be powerless over such a tragedy, but also how strange it was that it took so long to burn down. Remarkably, due to the slow burn, they were able to save precious items such as furniture and artwork. It was Andy's grandmother, Susan Erskine Rogers, who rebuilt the home upon the remaining stone foundation of the original home her parents built and where she grew up. Susan employed architect Erle Stillwell and with her brother, artist, sculptor and architect, Harold Erksine they took on the project with epic results.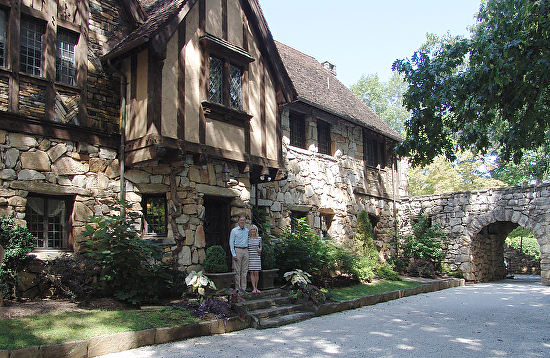 The Hayneses graciously greeted me at the door and introduced me to their cats, Luna and Trixie, as the cats purred and solicited me to scratch them. Some snacks were served in the living room to my delight as lunch was skipped, yet again. Andy and Linda and I caught up a bit, chatting about our gallery, children and school, but then we got down to the arty business!

I already knew what wonderful collectors they are as they do own works by my husband Richard. The landscapes that they fell in love with at one of his first solo exhibits (upon moving here from the Detroit area) grace their walls. As we toured their home I could see how much they adore them as they point out favorite clouds, or vivid colors in the mountains. I really enjoyed listening to them as they voiced feelings the paintings elicit for them when we walk by each piece. I too have favorite paintings of Rich's in our home, paintings I've staked my claim to over the years, so I enjoy hearing from others why they love his work as much as I do. Yep, I'm an art nerd, but I digress…
Another highly collected artist for this art loving couple is Philip Dusenbury. Now this marks the third time I've mentioned this artist in this article series, but this time is different, this artist to collector relationship is extremely personal to the Hayneses. Their first Dusenbury was a wedding gift from the artist himself as he was longtime friend of Andy's going all the way back to kindergarten. It is entitled "Chef" and it hangs (which is atypical of his work) on the wall with no color whatsoever-instead letting the 'New York Times' (which is all Philip would use in his paper mache sculptures) text show through. The facial expression of this 'chef' is gruff to say the least, almost to the point of being comical. This very early piece of Philp's is interesting to view as his more recent sculptures, before his untimely death, are so different. His work clearly evolved, and he began representing his subjects with the most gentle expressions, evoking a simplicity and endearment of the characters he sculpted when eternalizing them in their quirky moment in time. Andy and Linda would "gift" to each other a sculpture by Philip every 5 years of their anniversary thereafter.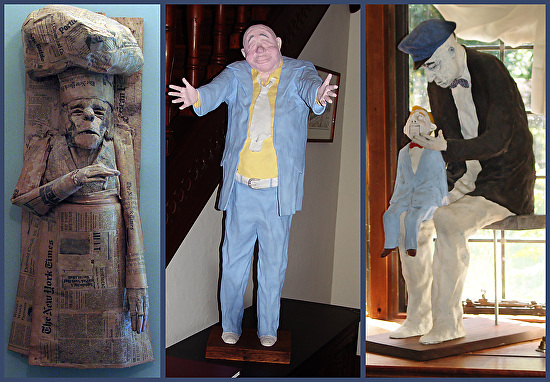 One Dusenbury I especially took note of. In their foyer, right next to an architecturally gorgeous grand stairway, stands "The Greeter" which is an a'dork'able older man in a light blue leisure suit, white tie, and yellow shirt with a pot belly, double chin and outstretched arms. He reminds me of that distant relative at weddings that beckons you in for that requisite big wet smooch. Fabulous. His sculptures line their hallways, bedrooms and windowsills; all representing their years of dedication to one another, a lasting friendship, and support of local arts. After Philip's passing they were able to acquire one final piece; "After the Show". Andy and Linda proudly showed it to me. A ventriloquist is calmly having a private moment conversing with his puppet after their performance, clearly giving him 'notes' for improvement. The puppet listens intently. I smile.

Our tour continued and I got to soak in and enjoy the beauty of Lynncote, as well as so many artworks by artists I knew, their artist family members past and present, and new artists I'd never heard of before. Linda described their acquisitions as a "Mutual give and take; we love your art and we want to support you. We want people to succeed."

I would like to clone both of you now. Is that ok with you? May I take a DNA sample? I mean really, what a gift the community! A short list of artists donning their walls would go on to include: Homer Ellertson, Elaine Pearsons, Bonnie Bardos, Keith Spencer, Dale McIntyre, Carol Beth Icard, Margy Davis, Mary Schweder, Harry Strider, Hedy Lonero, Paul Keenan, Clara Rogers and Gary Page. Watercolors, pastels, oil paintings, sculpture, photography…it was difficult to soak it all in during the short time we had together (hint hint-'may I have some more sir?')!

But wait, we haven't even gotten to "Thee Artwork" yet; the meat and potatoes of this article series. You see, the "if your house was burning down, what one piece would you save" question I ask collectors, now has new meaning! Andy took me into their dining room to see it. Stunning. A portrait of Andy's Great Grandmother, Emma Payne Erksine, at the young age of 16, hangs above the buffet. As it turns out Emma's father, Alfred Payne (1815-1893) happened to be a professional portrait artist. He taught at the Art Institute of Chicago, and was active with The Chicago Art Museum. Not only did he paint the young portrait of Emma that hangs in their dining room, but he also painted Ralph (about at the age of 5), one of Emma's six children, and it hangs above the fireplace to the right of his Mother's portrait. Being married to a professional portrait artist myself, I stood in awe at these two exceptional works of art from so long ago. Andy then shared, "these portraits hung in the original house that burned", and that "they were among the many saved prized possessions."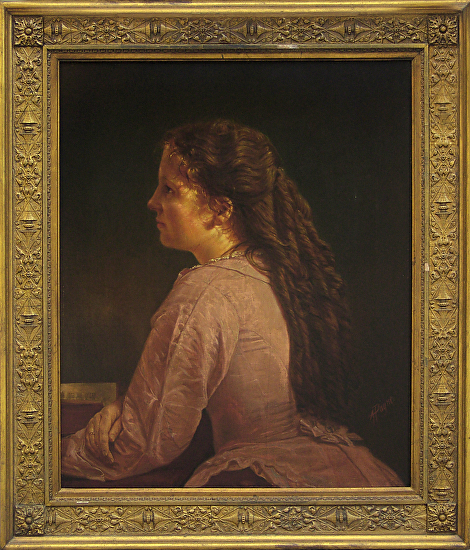 Can you believe it? The one question that I jokingly prompt people with to get them to talk about artwork they love, actually happened at Lynncote. Excuse me while I go buy my lottery ticket now.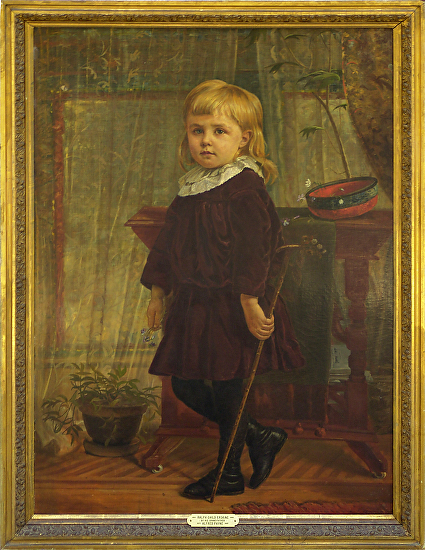 But what is of further interest in this story is the subject in the painting itself; bright, and creative16 year old Emma (1854-1924). This talented young woman had great interest in emerging new ideas of the time, and was very cultured. It was just three years after she sat for this portrait that she married Charles E. Erksine of Racine, Wisconsin. In 1885 they, with their children, took their first trip to Tryon to get away from Wisconsin's harsh winters, and they fell in love with the area. Frequently visiting, they eventually bought property in 1892, and within 5 years had Lynncote completed. Emma quickly became active in all things Tryon.

Emma showed exceptional talent as an artist, and later became well known for her poetry and fiction. She was a strong civic minded activist, pushing hard for the woman's movement. She made Lynncote the center of Tryon's social activity with a focus on promoting the arts, enjoyment of music and literature, and discussions of progressive national issues of their time.

Emma showed an affinity towards the local African Americans who were emancipated slaves that never left their plantation property (known as McAboy's Inn, and later the Mimosa Inn). She painted many of their portraits and depicted them honestly, and beautifully.

She was one of the founding women of the Lanier Library (where she often lectured); she and her husband donated the land that it was built upon and she sold many of her landscape paintings to help with its construction fund. She and her husband commissioned and funded the building of Tryon's Congregational Church, designed by son and architect Harold Erskine in 1908. Similarly, we have the Tryon Country Club thanks to Emma. She donated the land and hired Donald Ross to design the golf course layout in 1916. Recently the Country Club was also added to the National Registry of Historic Places.

Emma was also very business minded and developed land by building homes and selling them as an additional source of income after her husband passed away in 1908 before she married again to architect Cecil Corwin in 1916. She traveled a good bit, and her last destination before her death in 1924 was Washington, D.C. to attend a convention for peace. What a remarkable woman! I'm so glad I was able to learn more about her through her portrait. Art gives in so many ways, and continues to go on and on touching people.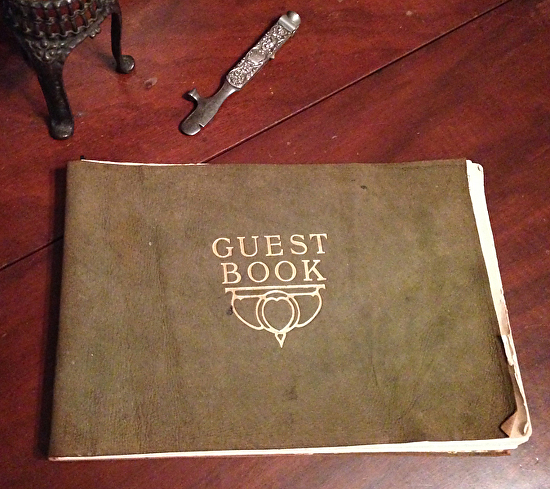 I will never forget my evening drinking in the artwork at Lynncote, and hearing Andy and Linda excitedly explain the importance and history about each and every creation. As our time ran out I was honored that they asked me to sign their guestbook dating back to 1911. Knowing its significance to the estate, the Haynes, and it being a veritable "who's who" throughout Tryon history, I set out to pen my prettiest signature and thank them for the perfect evening interviewing them for this article series in the comments section. With hugs and final scratches behind ears, of Luna and Trixie of course, I really did end up feeling like a part of it all. A part of their "family & friends," their tradition, their love of art and Tryon, and a part of Lynncote. Thank you.