When I dreamed up this art series my main goal was to get people talking about art, and especially talking about the art that they love and then try to share the experience through the written word. I imagined if there were to be personal benefits, at best they might simply be to enjoy viewing new artwork I hadn't seen as of yet and engage with art lovers and maybe make a new friend or two. After only four short months, the benefits I have received have far surpassed this initial prediction! I'm continuously surprised and delighted when people tell me how much they are enjoying the articles. But more than that, the knowledge I am gaining in this process is priceless! And, remarkably, this month's featured artwork and collector's story behind it is truly why I am so honored to be doing what I am doing.

When I asked Shields and Frances Flynn to meet with me and see if we could narrow down a piece from their 20th Century modern art collection they didn't hesitate to accept my request, and Shields shared that they had the perfect piece that they had just acquired called "The Vikings". This actually made me nervous that they had a bit of a 'new purchase glow' and they were zeroing in on it because of that. Boy was I wrong.

As it turns out "The Vikings" happens to be Shields' brother Ligon Flynn's artwork from the 1950's. Ligon had an amazing career as an award winning and highly recognized architect in the area, as well as the Eastern part of North Carolina. He is celebrated for his numerous residential homes (many of which are on Figure Eight Island off the coast of Wilmington, NC), commercial and institutional buildings, two museums, his own office, and a hospice facility. Many of his designs can be seen on the North Carolina Modernist Homes website (ncmodernist.org/flynn.htm) where you can also learn much more about his architectural career. Holland Brady (ncmodernist.org/brady.htm), who was also Shields' and Ligon's brother-in-law, collaborated with him on many local residential homes, as well as a student housing project at the Brevard Music School for which they won an architectural award. Sadly Ligon passed away in 2010, and Holland passed in 2013.

As I viewed this beautiful watercolor, not only was I delighted to learn that this architect had produced two-dimensional artwork in his lifetime, but I was also very perplexed as to how it was that they had "recently acquired" such an older piece well after Ligon's passing. I felt like Sherlock Holmes excitedly bombarding the Flynns with questions while gathering my clues!

First off I didn't understand the timeline in which this piece was created and how Shields didn't acquire it then? "Ligon was at NC State or in the army from 1949 until 1959. In other words he left school to serve as an engineer in the army, and then returned to NC State where he then completed his architectural degree and taught art for a period of time", Shields answered.

Shields then went on to share that this piece was done in 1955, which places Ligon at NC State, very far away from a much younger Shields at that time. To add to the mystery, Ligon only produced a few works in this style, making them very rare. Over time Shields has located approximately ten from this series, but most are "coveted by other family members, and rarely became available", bemoaned Shields.

OK, so the backdrop has been set; the when and the where answered. Now connect the dots please Mr. Flynn; how did you and Frances come to acquire "The Vikings"? "Ligon became good friends with a past Tryon resident, George Dusenbury, who was very interested in art and the work Ligon was doing during the 1950's. At some point he purchased the painting named "The Vikings". This painting was passed down to other family members after the tragic death of George Dusenbury, and eventually ended up in the possession of Philip Dusenbury who recently passed away. It was Randy Grobe, of Frog and Swan Antiques in Tryon who was handling the estate of Philip that recognized that it was a painting by Ligon and notified us that it would be coming up for sale. Needless to say we were thrilled to have the opportunity to acquire one of Ligon's paintings from this period." Ah-ha! Elementary my dear readers! But the game is still afoot! There were two more very interesting aspects to this painting that needed investigation. As Sherlock states: "Data! Data! Data! I can not make bricks without clay."

The first curiosity was in the form of a label affixed to the back of the piece with an interesting notation that clearly stated "Painting of the Year"! Shields investigated and learned this: "One of Ligon's first instructors was Duncan R. Stuart, a co-founder of the NC State School of Design. Stuart had paintings displayed at the Metropolitan Museum of Art, the Whitney Museum, and the Chicago Art Institute. One of his greatest achievements was teaching and he was Ligon's first painting instructor. It was the practice of Duncan to encourage his students to enter paintings in shows at the School of Design, and it was "The Vikings" that won Painting of the Year in one of these shows in the 1950's."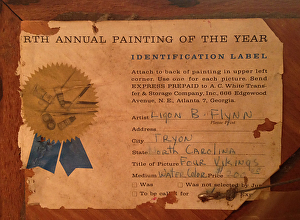 Secondly, and of greater interest, is the frame. Shields had this to say about it: "Upon seeing the painting I also recognized that the frame, which is quite unusual, was made by my father, Tryon's postmaster Broadus Flynn, whose hobby was woodworking. I have now discovered at least three of Ligon's paintings where the frame was made by my father. Most of the frames for Ligon's paintings were made by Ligon himself or friends at NC State" according to Shields.

Does anyone else find it as remarkable as I do that the piece that finally ended up in Shields' and Frances' possession happens to be a Painting of the Year winner? And, but even more astonishing, is the fact that it is hand framed by Flynn's own father? But wait, there's more! Hold onto your pipe Sherlock! Our own Tryonite, Will Behrends (world renowned sculptor), happened to take a design course that was taught by Ligon in 1964 at NC State! But then Will transferred to UNC Chapel Hill where he was in the same class as Philip Dusenbury whose father was the original purchaser of "The Vikings"! And at some point, Will ended up living in a house that Ligon had designed for his own parents' retirement in Country Club Heights! I just love it when so many dots connect, and these beautiful dots all connect and swing back to Tryon! Isn't that just magical? Where is my deerstalker? I simply must fetch it.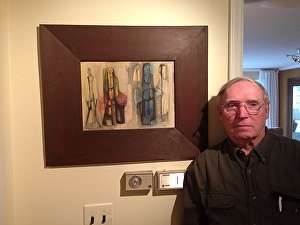 Ligon Flynn ended up producing more two-dimensional artwork but his style changed from modernist, to abstract impressionism as a result of his friendship with George Bireline; also a well known North Carolina painter in his own right. Ligon's works add up to about 40 pieces, all owned by family members or close associates. It is rumored that the North Carolina Museum of Art in Raleigh has two of Ligon's paintings, but this has not been confirmed. Interestingly Ligon also added photographer and author to his illustrious career in his later years as well. Sheesh! Is there anything he didn't do?

Shields had this to share about his brother's later photographic accomplishments: "In 1993 Ligon won the prestigious Kamphoefer (who was the first Dean of the NC State College School of Design) Prize that was worth $10,000, established by Kamphoefner in 1988. As stated by Kamphoefner:
"The selection committee for this award believes that the chosen architect has demonstrated a consistent integrity and devotion over an acceptable period of time to further the development of the modern movement in architecture without yielding to any of the undesirable current cliches, neomodernistic mannerisms or artless historicism that have flawed the building culture of today." Henry Kamphoefner

Ligon used some of the proceeds to purchase a medium format Hasselblad camera and to construct a darkroom so he could process his own photographs much in the style of Ansel Adams. Ligon produced a photographic exhibit of tobacco curing barns, which he felt were rapidly disappearing from the landscape. He wanted to document and preserve this architectural style. He documented more than 250 barns throughout the state. The exhibit of large format black-and-white photographs traveled to several art institutes in North Carolina, and he later produced a book documenting this project."

What a fantastic journey this artwork has taken me on, and I wish to thank the Flynns for allowing me to do so. What a remarkable story about how this piece ended up in the hands of the brother of the artist who created it, and in the hands of someone who most desired it. I truly believe that artwork continues to give and give well after it is created, and in ways that its creator never could have imagined its full impact well after they are gone from this earth. To quote Sherlock once more: "What one man can invent, another can discover". On to the next adventure Watson...