Jim Peterman has been a musician for most of his life. He started out singing in a high school rock band called The Playboys, but soon he started playing the piano as well. In college at the University of Wisconsin he studied art, music, sociology and philosophy, but he was always in one or two bands which was "not the best for grades but a lot of fun". It was just after graduation that he was invited to join his buddies with a little band you might have heard of; the Steve Miller Band. Peterman was with the band for over two years and produced two albums with them; Children of The Future and Sailor.

Peterman eventually left the band for personal reasons, and started a family. He worked day jobs to support them; factory worker, PR man for Elektra Records, farming, teaching and general contracting. Nonetheless he always had a band going and they played in bars most weekends. Playing organ in a Baptist church for five years did him a lot of good also, as it really helped him hone in on "his style" which can be described as 'rhythm and blues with a touch of gospel'. These days you'll find Jim playing with the Shane Pruitt Band and the JPQ; Jim Peterman Quartet.

Jim hosts some pretty rocking evenings with a handful of friends and musicians jamming in his basement now and again too. It was when my husband Rich was invited to one of these, and I got to tag along, that I discovered what an amazing art collection Mr. Peterman has. I knew I had to interview him and asked if he'd be interested.

"Yeah, sure." Jim replied. "I love art!"

Arriving for our interview, I throughly enjoyed my walk up the many levels of steps to Jim's home. Multitudes of flower beds and decorative pots cascade the entire front of his home-all bursting with gorgeous colors and textures. Turns out Mr. Peterman has quite the green thumb! At the front door I was greeted by Spanky and Lucy, Jim's large and loving dogs. We immediately got down to business as the pups had a training class shortly.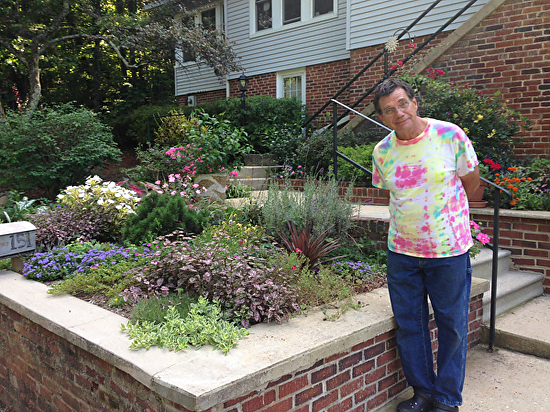 Where to begin? Art is everywhere. I love walls that are hung from floor to ceiling! It says so much about a collector's passion for their artwork. People who say they have no room for new artwork need to take a lesson from Jim. I decide to begin with the question "what was your first art purchase", and I ended up learning a bit about Jim's personal life as well.

"I bought my first painting when I was still married. Our daughter Summaiya was getting married soon and Nancy wanted to get a nice large oil for over the fireplace mantel. We found a beautiful impressionist French landscape at that great gallery on Meeting Street near Hyman's Restaurant in Charleston. I guess that fueled the fire, and I've been buying art when I can ever since.The first piece I purchased for my new home was a piece by Linda Cheek called 'Fairview Farmhouse.' I loved her work so much I ended up purchasing three more paintings by her."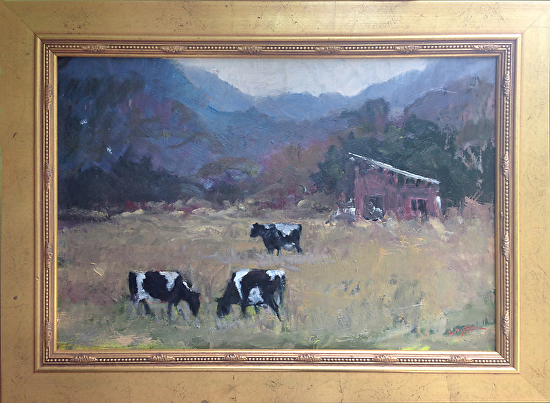 I was delighted that this piece happened to be the celebratory 'new beginning' painting for Jim. It happens to be my favorite in his collection as well. It is one of the pieces that I always come back to when visiting in his home with Jim and his "cool girlfriend", Pat Strother. Linda Cheek is an extremely talented plein air painter from Marshall, NC and she studied at Ringling College of Art and Design in Sarasota, FL.

The palette Linda used on this piece is a little different for her. She typically utilizes strong vibrant colors that pop off her canvases, but not here. These colors are a bit muted, which gives the viewer a sense of calm and peacefulness. You really become a part of this moment captured on canvas. You can almost hear the cows munching as they graze. Her application of paint is so well thought out. She never overworks her paintings. Instead she employs a true economy of brushstrokes, always a sign of a great painter. You can see this clearly in her depiction of the cows and the barn which are really the stars of this painting. Their placement perfectly draws you in and then your eye is led back to the mountains where you can sense their great distance as they softly fade away. Brilliant composition, color selection, and execution. I think I love this painting as much as Mr. Peterman does!

Jim purchased his Linda Cheek paintings from the Red Clover Gallery in Landrum a number of years back. I happened to have been the director there when they opened, and I was the one who brought Linda Cheek onto their walls. I'm so pleased that because of that relationship Jim found his first piece for his nascent art collection. When we opened up our gallery, Skyuka Fine Art in 2010, luckily Linda agreed to continue our working relationship and show her work with us. She happens to be one of our top selling artists and, as always, one of my favorites.

As we continued exploring the walls of Jim's home, I was struck by his attitude about art and his collection. I realized that Jim collected these pieces simply because he "loved them". He shared with me that he never sets out to purchase something, but more often he is simply moved by it. Case in point, a charming and whimsical sculpture in his living room of a humanly shaped figure, with a beer bottle cap body and a clay dog head by artist John Richards. Jim stumbled upon this beauty while strolling through Kathleen's Gallery when her shop was still in Tryon a few years back.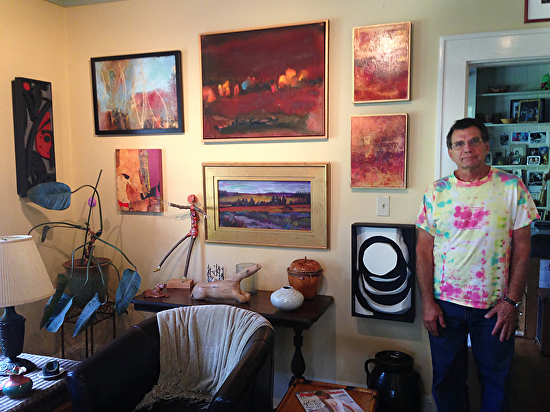 "It just doesn't get any better than this", Jim said. "Look at his expression! The gesture of the arms, the legs; perfection!"

This piece truly gave Jim joy. To watch him talk about it, as I wasn't so much listening but really watching, I realized that he sparkled! Art actually put quite a spark or glint in his heart that you could see on his face, and in his eyes. I think I've seen this on stage sometimes too when he is performing. I'd like to someday have someone say that about me. Hmmm, another lesson to learn from Jim; find your spark.

He continued on with stories of visiting artist friend's homes and simply asking them "what's new?" If something moved him, if he "liked it", he'd buy it. This all seems very simple and basic to him, which I very much admired. His walls are filled with the likes of Dom and Pat Ferullo, Bonnie Bardos, Keith Spencer, Lee Holroyd, Carol Beth Icard, Doug Dacey, Gary Page, Floyd Gordon, Guntram Gersch and Jim Cullen just to name a few. He's also collected a good bit of work from artists in his home state of Wisconsin like Sarah Muender. Basically, if he likes it, he's going to find a spot on his walls for it. Amen!

I suddenly felt as if I were following around a young boy showing off his prized baseball card collection as we walked about his home. We continued to discuss his many paintings, sculpture, photographs and pottery pieces. He even proudly drew my attention to a lovely landscape painting he did in college entitled "Western Wisconsin". Mr. Peterman has some real talent with a brush! He pointed out the interesting shapes in the earth that glaciers had produced over the centuries and how it had inspired him. 'Get thee to an easel' I thought, this musician can paint!

As we continued our tour, I was entranced at Jim's descriptions of a glaze he loved, or a mood a photograph gave him, or an intriguing brushstroke that stood out for him. A proud grandpa, he even showed off an entire wall he has devoted to his grandson's artwork. But I did finally hit him with my big question, because time was running out-those puppies had a class to get to.

"If your house was burning down, which piece would you save?"

"I'd singe my ass trying to save at least two" he joked.

First, and not surprisingly, is the Linda Cheek landscape. But his second choice came out of left field.

"I started collecting the works of Mike Locke, my next door neighbor, when he told me to come see what he had in his trunk one day."

At this point my eyebrows raised.

Jim continued, "It was filled with canvases he'd painted. I liked one of them a lot, so I asked him how much he wanted for it. '$25' he said. I refused to pay him that, because he deserved more. I paid him $125 and it is now one of my favorites."

As it turns out Mike Locke went to the same school that Linda Cheek did; Ringling School of Art and Design. You can find much of his work hanging at the Trade Street Gallery and Coffee Shop in downtown Tryon. Although he does the occasional portrait, or streetscape with a realist approach -he gravitates towards a Folk sensibility and even dabbles in Surrealism a bit. Jim says what he admires most about Locke's work is his "uninhibited control".

The first piece Jim bought from Mike, and his favorite, doesn't even have a title. Honestly Jim isn't even really sure about what is going on in this painting, but he loves it, and that's enough for him. There are three African American figures sitting outdoors with a mountain landscape in the background and a fox in the foreground. Their clothing is white and red, one is reading, one is perhaps playing an instrument (?) and one appears to be throwing money up into the air. They may be at some type of a fair or festival with what I think are banner flags waving in the wind above them. There probably is some deeper meaning here, a story untold, but clearly it didn't matter to Jim. He just liked it. And you know what, I saw the spark in his eye when he talked about it too.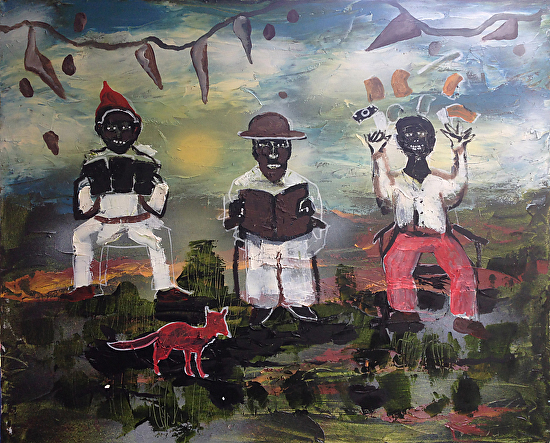 For Mr. Peterman, collecting art seems to just make him happy. Life seems pretty simple for him, and pretty good too. A great girlfriend, musical talent, wonderful friends, adorable puppies, a lovely home, and great art! Jim seems to gravitate towards whatever gives him that glint, that spark in his heart. I admire him for allowing that spark in, and for keeping it going. Rock on Mr. Peterman! We can all learn a few lessons from you.
Comment on or Share this Article →
---
---
---
---
---
---
---
---
---
---