For Jonathan P. Alcott, collecting "brings order into a world full of chaos".

Jonathan Alcott was introduced to me by Mr. Nowell Guffey (my June interviewee) a few years back. Jon has always had a genuine interest in Tryon and for years he even desired to move here. As of late the idea of purchasing and starting up another home is just too daunting to this remarkable retiree, restaurant entrepreneur, and avid art collector. I do enjoy seeing him pop into the gallery now and then during his visits to our wonderful little town, and I secretly hope that he might just 'find that perfect little place' and default on his resolve.

A recent showing of Mr. Alcott's North Carolina art collection entitled "Scent Of The Pine, You Know How I Feel" is on exhibit at the Longwood Center for the Visual Arts at Longwood University in Farmville, Virginia until mid-October. The title of the show is a lyric from Tryon's own Nina Simone's song "Feelin' Good" which gives one a glimmer into the talents and achievements of the North Carolinian artists represented in the collection. The exhibition catalogue chronicling Jon's extensive collection is impressive to say the least. I have not yet had the pleasure of seeing Jon's collection in person, but viewing this catalogue is what prompted me to ask him to be a part of this series. Jon accepted and a luncheon date was scheduled with Mr. Nowell Guffey, Jon, and myself at the new and delightful Lavender Bistro in downtown Tryon.

As we sipped our beverages with menus lying in wait, I was excited to start peppering Mr. Alcott with my questions. I was especially curious about his early beginnings. As it turns out Jon was a young lad from Missouri who hopped on a bus to Santa Barbara with big dreams and $12 in his pocket. He quickly got a couple of part time jobs; washing dishes in a restaurant and "upholstering caskets" (two words I've never put together before!) to scrape by, feed himself and pay for his meager lodging. The restaurant work seemed to suit him more (thankfully) and he began climbing the ladder first as a manager, then district manager, then regional manager, and then Jon became Vice President of a national chain. Eventually he bought his own restaurant chain which he successfully ran for twenty years before selling them just ten months ago, deciding to slow down a bit. But during this rise to success, getting married and raising a family, collecting has always been a constant in Jon's life. I wanted to know more about how he began collecting, but we were so entranced in conversation that our waiter Gabriel had to interrupt to take our order (thank goodness because I had skipped breakfast!).

"Neat old keys", Jon continues after we placed our order, it was his "first collection as a young boy". Other unique items he collects include North Carolina shorebird decoys, North Carolina quilts, French glass paper weights, Ronson cigarette lighters, Tryon Toy Maker's work, Southern pottery, Edgefield pottery, walking sticks, oriental blue and white porcelain, and rare 1st edition-1st print books. Jon then added how it saddened him that "the youth of today doesn't seem to value collecting things like books or art" and he blames our "ever evolving technology".

As we waited patiently for our food I pressed Jon about how he started collecting artwork. He shared that his first step into art collecting was a bit disjointed with two separate focuses; 'Buck's County, Pennsylvania artwork', and simply 'regional" artwork'. But Jon found the regional collection "far too broad" and he was unable to bring his collection to a focus. And the Pennsylvania artwork collection just didn't "resonate" with him. Well known art dealer, museum curator and gallery director Robert B. Mayo of Gloucester, Virginia worked with Jon on building these two collections. As a friend it is he who suggested Jon look into collecting North Carolina art when he realized Jon just wasn't getting what he'd hoped for.

"It was a blessing, it was exactly what I was looking for. The quality, the artists…"

Liking the suggestion, Jon began selling off his first two art collections. He now had a new focus, one that resonated with him. He was going to collect North Carolina artwork that was done by either artists born in North Carolina, or by artists who had visited North Carolina and been inspired by its majestic scenery while here. And collect he did! Gosh he's good at that!

As Jon's North Carolina art collection continues to grow it now totals over 100 pieces. The work is broken up between his two homes, which also means what goes where has been well thought out. In his Raleigh home he has very traditional and representational artwork from 1850-1950, and at his Morehead City beach home he showcases the more contemporary 1950-present works. I knew hitting Mr. Alcott with my "if your house was burning down and you could only save one piece" question was going to be difficult for him, especially since he has two homes, but I was surprised by his answer.

"I would just throw myself into the center of my burning home as there is no way I could choose just one. They all are so special to me."

Wow, I thought. I was a little stunned and I felt badly that something I asked put such an image in our heads. Wanting to move beyond that morbid thought, and still reeling from the image of him delicately affixing fabric into caskets in the springtime of his life, I told him to forget the "burning question"! Instead I asked if he could narrow his favorite down to either one artist, or at least a few pieces by different artists? That seemed to bound life back into our conversation and he was able to answer quickly and with a smile.

"Lawrence Mazzanovich, 'Near Tryon', George C. Aid, 'In the Park', Margaret Moffet Law, 'Going to Market', and Homer Ellertson, 'Tradition'".

Hmm, I think he put some serious thought into that well before our little Bistro date, which actually tickled me. With our salads and crepes arriving I decided to begin my line of questioning methodically for each artwork he named in order. " Why does this piece speak to you, and how did you acquire it?"


"First and foremost I wanted a Lawrence Mazzanovich because I knew he was good. I also wanted a Tryon scene. I bought the piece 'Near Tryon' from Nowell."

Jon met Nowell ten years ago when he began his North Carolina collection and it was in Nowell's Foothills Fine Art gallery that he found his "Mazzy". He was immediately drawn to it for a quality he, at the time, didn't know how to verbalize. It just moved him. It turned out that the quality that sparked Jon was a "haze". I love that ultimately it wasn't a specific subject matter that drove Jon to love the piece but rather an atmospheric depiction that temporarily eluded him to describe just what it was that he loved. So cool. That moment when a piece of artwork makes you feel something and you don't even know why it did it is just priceless. If I could bottle that and sell it…

Jon also had this to say about Mr. Nowell Guffey, "I owe my successful art collection to Nowell who had the best pieces of art. More importantly, Nowell took the time and guided me in the right direction."

Kudos to Mr. Guffey. He is a wealth of knowledge in the world of Southern artists, and especially artists who spent time in Tryon at the turn of the century. He also happens to rock it out on the tennis court! He's so multi-talented.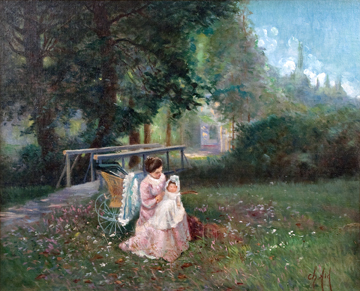 Second up on Jon's top four list was George C. Aid's 'In the Park' oil on canvas.

"I saw this piece at an online auction and I just loved it. It was calm, subtle and peaceful. Unfortunately I missed my opportunity to purchase it, so I contacted the auction house. They told me who bought it and luckily it was a dealer who was interested in reselling it. He immediately sold it to me. When I got it I ended up loving it even more in person; the colors, the palette, just fabulous! It really started to round out my collection."

What a relief! Jon loved it, missed his chance at it, but ended up with it anyway! I have to share how often it happens that people fall in love with a piece, but don't buy it, then the regret. Oh, the regret. I've seen it first hand. It's not pretty.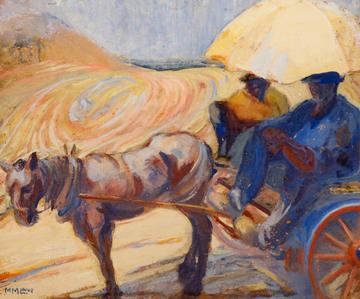 Thirdly we have Margaret Moffet Law's 'Going to Market', goauche on paper.

"I love the subject matter! I walked into Nowell's gallery one day and saw it, and instantly fell in love with it. I even love the signature!"

Instant love. That is so great. And to "love the signature", what a collector! I tip my hat to you Mr. Alcott in admiration for noticing and enjoying the little things. Jon also mentioned that Margaret used a salt technique atop the wet gouache to add a bit of textural quality or what he calls a "fish eye". Margaret Moffet Law, from Spartanburg, SC, also happened to have a niece named after her who lived in Tryon. And who did that niece marry? Homer Ellertson! Ellertson was featured in last month's series, and he is next on Mr. Alcott's top four list.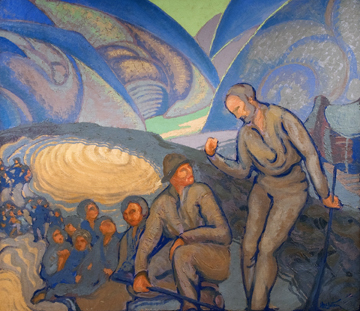 Last but not least, Homer Ellertson's 'Tradition No. 1', oil on canvas.

"You don't get any better than 'Tradition No.1'. It's perfect; the mountains, the stream, the field, the strong mountain folk. This piece was not for sale, but I was able to pry it out of Nowell's hands with my checkbook!"


I guess there was no option for Mr. Alcott but to add 'Tradition No. 1' to his collection, no matter the cost. From what I understand Mr. Guffey was not easily swayed either! It has to be hard to be an art dealer; parting with certain pieces. I imagine that for much of the artwork that a dealer acquires there has to be some connection for them with the art. And each time they sell off a piece from their inventory it has to hurt at least a little. Ultimately they are making a living, but still-there is an emotional attachment to certain artworks, and to break that connection, no matter the profit, has got to be difficult. It's a good thing Jon and Nowell are friends. Nowell can see his, or formerly his, 'Tradition No.1' whenever he likes.


With our lunch plates cleared and Mr. Alcott quickly picking up the bill (thank you!), we then took a stroll down to our gallery so he and Nowell could say hello to my husband Rich who was working on a portrait. Still engrossed in conversation we headed down to O'Duggan's to enjoy a scoop of his delicious strawberry ice cream. It was a wonderful way to spend the afternoon; talking about art and why one collects with such an impressive collector and local dealer, while enjoying our great little downtown. I loved learning more about this amazing gentleman and his passion to bring order and focus to his life through collecting beautiful, unusual, rare objects and art. As we said our goodbyes, one thing hit me; how grateful I was that Mr. Alcott never added well upholstered caskets to his list of collectibles!