« First Skyuka Fine Art Concert-An Amazing Success! | Main | Lecture: A History of Selling Art in Tryon NC by Michael McCue »
You've admired them on on your friend's walls and you've always dreamed of having one of your own; the charcoal portrait. They are breathtakingly beautiful when done right. The simplicity of the black and white is perfect in any decor and you know it will be perfect in yours. But how to go about it? How to find that perfect charcoal portrait artist?
Finding the right artist can be as much of a challenge as finding the perfect house or car. After all, it is something you will treasure always and more than likely pass down through the generations. You will probably start your search on the internet. Viewing image after image and looking for just that right mixture of capturing a likeness, and still making great art can be overwhelming. You want that sketchy feel which reveals the artist's true talent in decision making; what stays, what goes, what works. But you also don't want it overworked. There is nothing worse than that overly smudged look, it just isn't where you want to be. Strong anatomical knowledge, coupled with creative brilliance and the ability to convey your child's unique personality... yeah. That's what you want in an artist.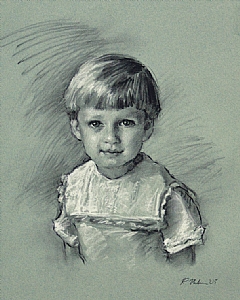 Richard Christian Nelson has done over 500 charcoal portraits. He is a master at them. Chances are good you know someone who has one of his portraits on their walls. Atlanta, Charlotte, Greensboro, Birmingham... they are hanging beautifully framed in people's living rooms, dining rooms, and offices. Richard was taught at the Center for Creative Studies in Detroit MI. He took anatomy classes among many others and due to his adeptness at it, was asked to teach it after graduation. Although he worked as an illustrator in the Detroit automotive advertising market successfully for years, he eventually moved into portraiture as a preferred subject matter. He is highly sought after for his charcoals as well as his oils, and has won numerous awards in both mediums.
Now is the time to commission a portrait by Nelson. Consider your search over and contact us to schedule your sitting. Find out when he will be in your area. You could become eligible to win one of these amazing portraits through the gallery's new 2011 promotion. Anyone who purchases any artwork through the gallery in 2011 will be eligible to win a free framed charcoal portrait (subject of winner's choice). Each purchase will give a chance of winning the portrait. A drawing will be held on the gallery's one year anniversary celebration, January 1st 2012 where the winner will be picked and announced. Online purchases included in this promotion.
Topics:
charcoal portrait artists
---
---
Comments