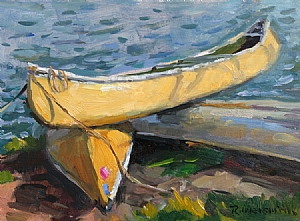 "What sets a canoeing expedition apart is that it purifies you more rapidly and inescapably than any other travel. Travel a thousand miles by train and you are a brute; pedal five hundred on a bicycle and you remain basically a bourgeois; paddle a hundred in a canoe and you are already a child of nature."-Pierre Elliot Trudeau
Canoeing. If you love it, you really love it; it isn't a 'kinda sorta' love. It's the kind of love that calls to you when you're at work, in bed, or pretty much doing anything except paddling.
I have a girlfriend (hi Amy!) who chose to kayak around the Savannah River with her hubby on their anniversary instead of hoofing it around the historic downtown area eating, shopping, drinking... shocking! They felt connecting with each other on that peaceful beautiful river was more important than getting sucked into tourist trap shops and restaurants. Ok, I think I get that.
Serious paddlers live for the peace and tranquility of hitting the water. They plan their weekends and vacations around rivers, lakes, sometimes a bit of whitewater, and they pack accordingly. Check out canoelover.com.
When someone's passion is something so peaceful, it's a beautiful thing. Like this painting, "Three Canoes" by Richard Oversmith whose passion has long been to paint. The beauty and peacefulness of the sport of canoeing is captured here in these simple yellow canoes. I wonder what adventure they just experienced before being stacked on the side of the water, waiting for their next paddler to take them out and connect with nature once again. When Mr. Oversmith painted them en plein air, I wonder if someone was waiting for him to finish the painting so they could hit the water and have some fun? What we do know is how expertly executed this painting of three canoes is. Well done Mr. Oversmith.
Now go get wet!