Tonight we are hosting an opening reception for artists Gary Cooley and Michael McNamara. Both of them went to CCS (then Center for Creative Studies, now College of Creative Studies) with my husband, Richard Christian Nelson and all of them were trained as illustrators and worked for years in commercial art. And all three of them became fine artists as well. In fact they are all out in downtown Tryon painting the views so many of us are very fond of, Morris the Horse, our movie theater, the old drug store Misseldines, and all with the familiar and moving Foothills as a back drop.
It is amazing to me how moving a streetscape painting can be of a location that is familiar to me. Michael McNamara has brought numerous stunning paintings done on sight of fantasitic scenes from New York. They exhibit unusual lighting, a gritty urban feel, as well as extreme and unusual perspective. But he is also from my hometown; the Motor City. From his time spent there over this past winter he produced a few familiar scenes. Corktown, a Northville frozen over lake, and of course downtown Detroit scenes featuring what I used to call "The Ren-Cen" which is now GM Headquarters. GM happens to hold a few of Rich's portraits of their former chairmen, but it also holds memories for me. As a teenager my girlfriends and I would go there to shop on their lower concorse level, and have lunch at Olga's, and usually end up chasing some boys, or have them chase us. Good times. These paintings take me right back to a certain Christmas break, a fresh snowfall on the ground and my friend's mom, Mrs. Smith driving us down Jefferson to drop us off for a care-free day of fun. I can still smell Mrs. Smith's perfume, which I loved, and now wear myself, feel my new high top tennis shoes I got for Christmas that year which were the height of fashion, and hear my friends giggle about how much fun we were going to have. I miss those days, and these paintings make me feel like a kid again. This is what great art can do; stir us.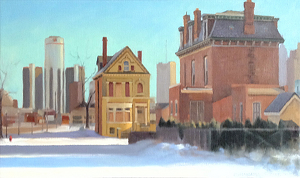 Speaking of stirring, Gary Cooley's jazz and blues portraits do just that. Nina Simone, Muddy Waters, Sam Cooke and Jimmy Yancy faces are so engaging, so well done, you can feel their rhythm and sense their souls just as they are about to belt one out for us. The expressions he has captured, as well as the lighting and color on these pieces, well, they are just stunning.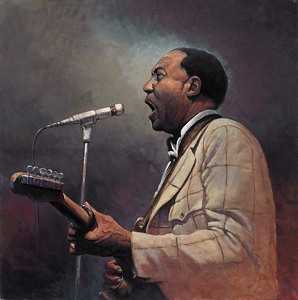 Then, Mr. Cooley thows you a curve ball; vintage ray guns. I-love-these. So fun. So wacky. Floating in mid air with a great color splash of draped fabric behind them, they almost look like they are in an anti-gravity chamber on Buck Rogers space ship! They get any sci-fi nerd (me!) geeked!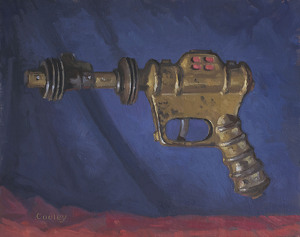 I'm looking forward to spending time with these paintings and enjoying them in our gallery. You should too. Come on by. The show will be up until the end of May, 2012. May 12th is another Tryon Gallery Trot here in downtown Tryon where 13 galleries, businesses and restaurants stay open late from 5-8pm with new shows, opening receptions and entertainment. The Tryon Fine Art Center's "Art in Bloom" is that day too, so it should really be a fine day to be in Tryon. But then again, it always is.