Join us May 9th, 5-8pm for the Block House Equestrian Exhibit Opening Reception
Richard Christian Nelson's recent painting "Steeplechase!" from the Tryon Riding And Hunt Club's annual Block House Steeplechase poster art is now available as a giclee online!
Click here to see the available sizes.
Skyuka Fine Art will be hosting
"Block House Equestrian Art Exhibit"
in conjunction with this year's race on Saturday, May 3 at F.E.N.C.E. Then the show will move into our gallery space for four short weeks with an opening reception to the public on Friday, May 9th from 5-8pm. Please join us!
Please contact Kim at info@skyukafineart.com or call 828-817-3783 for more info on this exciting show.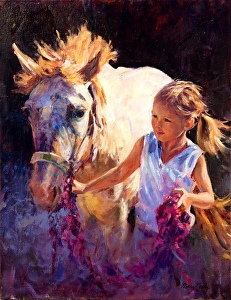 Mary Neely "For the Love of a Pony"
Skyuka Fine Art Gallery is committed to showing exceptional artwork from the present and past. Please visit us in Tryon, North Carolina. We're open Tues-Sat 11-5pm, or contact Kim Nelson at 828-817-3783. Owned and operated by Kim and Rich Nelson. Rich is an award-winning, nationally known artist and instructor who has recently opened up a working studio in the River Arts District in Asheville, NC. Visit his website to enjoy his outstanding work.