Richard Oversmith's show of his recent paintings is breathtaking! His plein air landscapes are so serene, you just want to step right into them. You can sense his depth and feel his atmosphere. His rich color selections are always spot on, as seen here in this delightful low country marsh scene.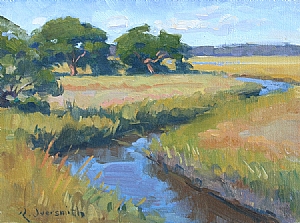 His floral still lifes are so bold and yet delicate at the same time. You can see this in his 'Cranes and Quince'. The pedals of the cottage rose are executed in broad brush strokes, yet luminous and billowing with softness simultaneously.
Mr. Oversmith recently added a number of new unframed painted panels to his exhibit in a decidedly lower price bracket than his norm. All exceptional, and quite a few are very unique in their subject matter. Who knew canoes could be so lovely when painted?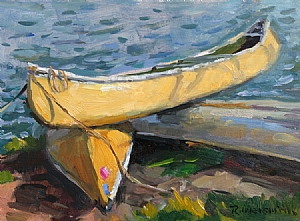 Check out the close up on those poppies! The dramatic zoom in on them is so unexpected, it makes you feel like you are lying next to them and surrounded by thousands of them in a colorful field.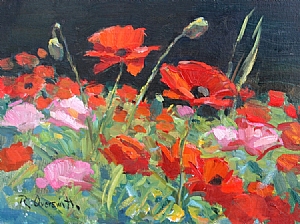 Ahh, the famous gardens in springtime at the Biltmore Mansion in Asheville, North Carolina. What could be more lovely?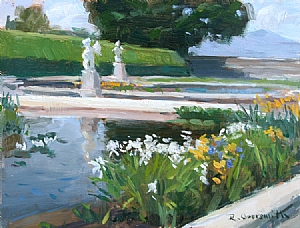 For that special musician, or simply a lover of music? The baby grand's rich wood color is the star here, but the gladiolas are sure vying for second billing.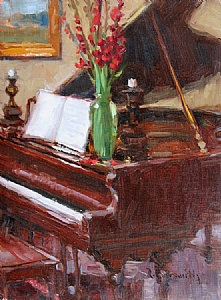 To see Richard Oversmith's entire show online
click here
. This exhibit runs through early April at Skyuka Fine Art in Tryon, North Carolina. Call 828-817-3783 or email info@skyukafineart.com for a private viewing of Mr. Oversmith's art in your home.