I have had the distinct pleasure of knowing Mr. Nowell Guffey for years, and I've been honored to have worked with him on numerous occasion; showing and selling some of his work here at Skyuka Fine Art. Nowell is a local art dealer who describes his business as "buying and selling American art with a special emphasis on art related to the Southern states.

Tryon is lucky to have had this Hendersonville native move here in 1972. After starting out in his hometown working at an auto parts store (a "real job" as Nowell calls it), two short years later Nowell was offered a management position working here in Tryon at American Parts System. Within 6 months at this position and after falling in love with our area he relocated his family here. For the next 24 years he managed that store and his wife Diane became a teacher at Tryon Elementary School (she happened to be our oldest son's first grade teacher).

Growing up in Hendersonville, shockingly, Nowell was never exposed to the arts in any way. This of course crushed me to learn of this, and saddens me to realize there are probably plenty of children out there still not being exposed to the arts in some way. This must be remedied. But I digress. Interestingly though, in his teens Nowell had refinished a few antiques at his mother's request, and this sparked an interest in older historical pieces with him. Later, and in his spare time when he managed the auto parts store in Tryon, Nowell would frequent antique shops, flea markets, household sales, and auctions. "Art started catching my eye" Nowell says, and he had quite an eye indeed! He seemed to have a natural gift for spotting quality amidst clutter. Soon he found his first piece; an American still life that, "looked real, like you could reach out and touch it", circa 1880. Due to its quality, beauty and price, it ended up being Nowell's first art purchase. He spent $50 on the painting, and the next day a dealer saw it and offered him $900! "It took me a couple of weeks to earn $900 in those days so selling it was a no brainer" said Nowell. Over the years Nowell continued in his hobby and quickly realized he enjoyed the research and learning about the works he purchased almost as much as he enjoyed the artwork itself. He enjoyed it so much that eventually he realized that being an art dealer was his calling, so "I quit my really real job" he said, and from what I can see- he never looked back!

Although as a collector and dealer Nowell does focus on Southern Artists, in particular Tryon artists and especially work from the Tryon's Artists' Colony, this has never stopped him from acquiring something he feels is of quality. "I am interested in quality professional work from all states and even have a few European things". But being from the South, and living in Tryon where there is such a rich arts centered history, he was naturally drawn to those particular artists. "I was intrigued by the Tryon unique history in regard to quality artists and other talented and sometimes famous residents. I admired the historic Tryon art that I would see at the Lanier Library, the Fine Arts Center, churches and local homes."

This brief biography of Mr. Nowell Guffey's interesting path into the world of arts fascinates me. How remarkable that a child who was never exposed to the arts ended up falling in love with, and under no guidance whatsoever, making his own career with the visual arts? And furthermore, how remarkable is it that he ended up moving to Tryon where he could best put that (as of yet untapped) passion to its best work? I think it was all kismet.

Mr. Guffey's collection is vast, ever changing, and for lack of better words-simply stunning. When I asked Nowell if I could interview him for this article I believe I set a bit of panic to him. "Relax," I said, "this is fun, there is no right or wrong."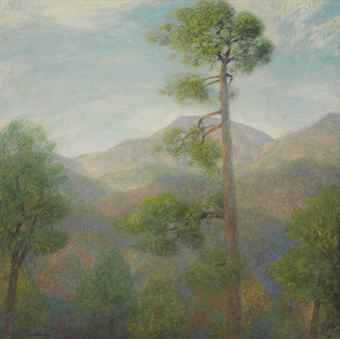 "How could I possibly narrow it down to just one work?" he asked. He mentioned his extensive collection of southern pottery, and of course there are the works by Emile Gruppe, and many many other artists in his collection. I was forced to capitulate and allow him to settle on one artist as opposed to one piece. This seemed to calm Mr. Guffey and eventually he came to a decision; Lawrence Mazzanovich (1872-1959). Or 'Mazzy' as he affectionately calls him.

Mr. Guffey, why is Lawrence Mazzanovich your favorite artist? "I consider Mazzy to be a perfect example of the painters who came to the Tryon Artist Colony which actually started in the early 1890s. He came to Tryon in 1923 from Connecticut, originally from California, and had already developed a reputation for quality work. He obviously loved the community and was involved in a variety of ways as was his wife, Muriel, who taught music to many locals and was instrumental in the success of Nina Simone."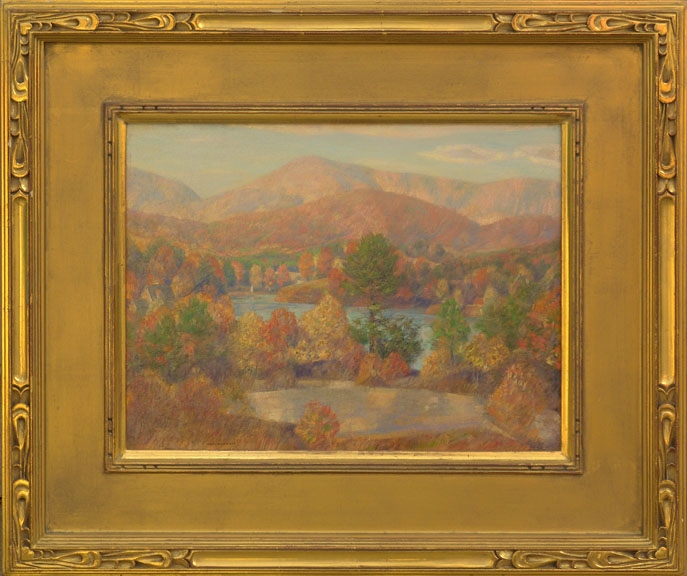 From a dealer/collector perspective that all makes practical sense, but what about his work draws you in personally? "He painted in a variety of styles and I appreciate them all. His early Connecticut works are more impressionistic and his Tryon works are generally more tonal. Tonal to me means almost "emotional feeling" and generally when I feel a painting like that, I am very much drawn to it. Most (works) are rather colorful, both Connecticut and Tryon."

Being that Mr. Mazzanovich moved here from Connecticut in 1923 and lived here until his death in 1959, are there any stories about him you can share? "I have talked to a couple of Mrs. Mazzy's music students who took lessons as children at the Mazzanovich home. They all relayed similar stories of how they could see him painting in the open studio above where their music lessons were taking place and that he was stern, businesslike, focused and that they were afraid of him. Focus is important if we expect to do things to the best of our abilities." Well said Mr. Guffey! Focus is so important if we expect to succeed at anything, heck- even if we frighten people!

Nowell happens to have 4 paintings by Mr. Mazzanovich in his collection at this time. In the past he has acquired and sold upwards near 10. Each of the works he now has were purchased from either a private owner (Texas and California), dealer (Connecticut), or at auction (New York). Three have come back to Tryon (they are Tryon landscapes), and one is from Connecticut. Nowell's first Mazzanovich was purchased from a collector in Boston. He was delighted to add it to his collection and he didn't care if he sold it or not. However the Asheville Art Museum ended up purchasing it which made Mr. Guffey immensely proud to have had a hand in that acquisition for the museum.

Mr. Guffey was so kind to spend the time showing me his Mazzys, and answering all of my questions. In typical fashion, as my husband can attest, I did 'press the issue' to Nowell on that one piece. But as I've learned in my older years; patience is key. I gave Nowell some time to think about it. "The Connecticut scene" he eventually replied. It's no wonder, at 32 x 40 it is absolutely stunning. Mr. Guffey also mentioned the pallete of this work to be of particular enjoyment for him. I concur with Nowell, and I'll add that I am especially fond of the reflection in the water, and the feeling in the air; it's almost hazy but a better word I think would be ethereal. I'm so glad it is his favorite, because it is mine as well! I was hoping he'd say that!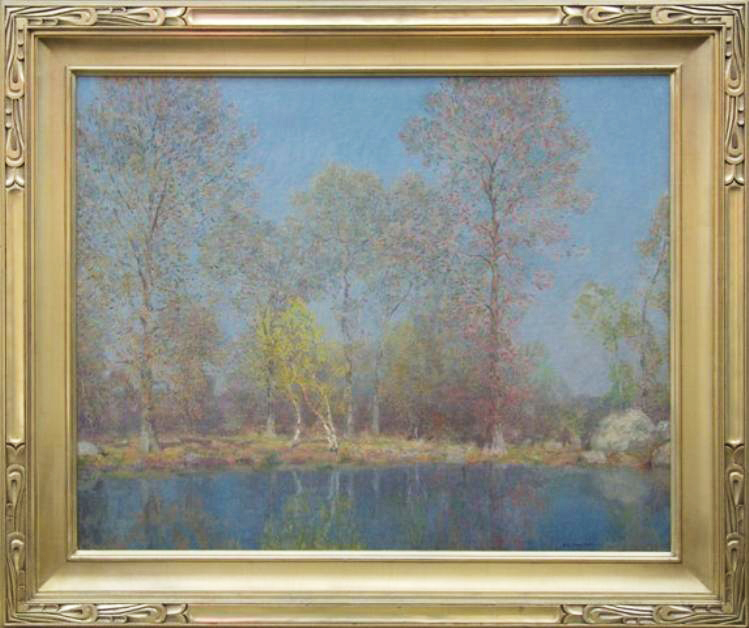 I want to thank Mr. Nowell Guffey for welcoming me into his home and gallery. And especially for taking the time to answer my questions, and for letting me 'press him', all for the sake of art. Hey, what can I say, I was focused! (but hopefully not frightening!)