Passion for preserving the past. That statement begins to give one a glimmer into the compelling lives of Gary Corn and James Blanton. Residents in the area might know about Gary and James more for purchasing and restoring the Mill Farm Inn on Harmon Field Road than anything else. Their 'labor of love' efforts paid off when they proudly got their inn on the National Historic Registry in 2009. "We would have hated to see this property get torn down and have a McDonald's go up" Gary stated in a video interview for Blue Ridge Now in 2009. But James shared a further interest they had in the property, "There has to be something more than just old age, there has to be something significant" he stated. And there was. The original architect of the home owned a quarry in Polk County where he pulled North Carolina Blue Granite Stone from to build the structure. Significant indeed.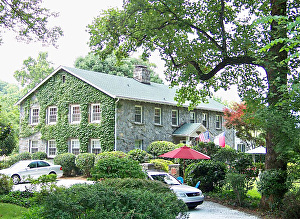 Both Gary and James grew up around Polk County with what they characterize as very "humble beginnings". Unfortunately art was no more a part of their lives than say, champagne dreams and caviar wishes were! But all of that changed in 2006 when they both read local author, business owner, and art guru Michael McCue's book called Paris & Tryon. They got bit. Bit by an art bug. I love those bugs. I wish I could breed them.

Gary and James' first purchase was an etching with no signature. They had high hopes that in their possession was a George C. Aid, as it was similar to images they'd seen in Paris & Tryon. They decided to invite the author Mr. McCue to view the piece and share his thoughts on it. He obliged. Unfortunately the piece was not what they'd hoped for. However the encounter sparked a friendship and quickly set Gary and James on what would become a passion for collecting art that is 'old or significant', just as their Mill Farm is. Over the next 8 years they collected everything from Philip Dusenbury's "The Incredible Cow" sculpture, to a highly prized John Sylvan Brown painting, to multiple Tryon Toy Maker's pieces. Their collection is unique in that it represents not only historical artists and art from this area but also living artists throughout Polk County.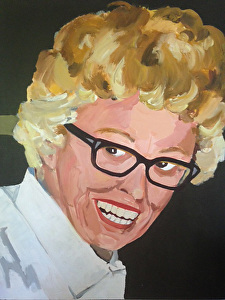 When I asked Gary and James if I could interview them for this series I knew they had some wonderful works of art, but I wasn't really sure what to expect overall. After entering their lovely Mill Farm and being offered a refreshing glass of wine (thank you!) we began what would soon become an unforgettable tour. I'd like to insert here one adjective that doesn't often go along with art collections or collectors in this area; brave. Besides their astounding collection, with the variety, the history, and the high levels of talent exhibited, one piece really stood out for me; hanging in their master suite is a very large, very fabulous and very Andy Warhol-esque Jeanne Parker self portrait (local artist, recently deceased). What a conversation piece! Although I already greatly admired this dynamic art collecting duo, now I would be forever in love with them, their aesthetics, and above all their bravery.

Even though the Jeanne Parker piece may have been my favorite at Mill Farm, James had another painting he was delighted to turn my attention to; "Finale" a circus themed watercolor by Homer Ellertson circa 1930. I asked James why from their expansive collection did it stand out as their favorite, especially since hanging right below it was yet another Ellertson. James had this to say. "'Finale' is a cubist style work, reflective of a Picasso, whose work we admire. I love the depiction of the circus characters, and this was when he was painting in Charleston. Ellertson paintings are fun, they catch your eye and you start looking for all the different nuances he has incorporated. The still life 'Poinsettias In Cruet' was purchased from a family who lived near Ellertson. The painting was used in The Ellertson Show held at the Tryon Fine Arts Center in 2000, curated by Sylvia Moore and Betty Knopp. Mike McCue authored the publication for the show and the design was done by Carolie Bartol."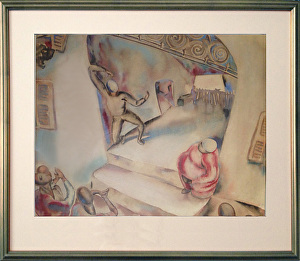 It's no wonder Gary and James' favorite piece is a Homer Ellertson; he happens to be one of Tryon's most famous artists. He was born in 1892 and he traveled Europe as an art student on a scholarship and painted in France and Spain. Upon returning to America he graduated and worked as a very successful textile artist in Manhattan, but gave that up in 1920 to focus on producing fine art. Like many artists of this era, Ellertson was drawn to Tryon's growing artist's colony, so he moved here and bought property to build his dream home and studio and he even designed much of his furniture himself. Michael McCue writes, "This triumph of Twenties design, which he named 'El Taarn' was inspired by picturesque old structures he had seen in his travels by the Mediterranean. Its features and appointments were designed with great originality and sophisticated taste. It earned national attention for Ellertson and for Tryon." Ellertson then married Tryonite Margaret Law and went back to Europe for an extended honeymoon, where he "produced some of his most beautiful and animated paintings" McCue writes. Homer and his new wife returned to Tryon and 'El Taarn', but sadly his life was cut too short; he died in 1935 at the young age of 42 of a heart attack. In his lifetime his works were wildly popular; he showed in museums, won awards, sold through dealers, held active membership in artists organizations, and was often featured in national art publications. Gary and James call Ellertson a "renaissance man".

I was very curious as to how Gary and James came to acquire "The Finale". Surprisingly, it was donated in 2011 to a benefit for the Red Cross here in Polk County. Sadly it had a bit of damage, a tear in the center as well as 'foxing' which simply means spots that are more than likely a form of mold. Gary and James couldn't be there for the actual auction as they were out of town, so they sent a friend to bid for them with a maximum price they were willing to pay. The Red Cross knew what they had and they had a high reserve price because of it. But at auction time, the reserve was not met. I imagine with the obvious damage, not many are willing to invest in a piece when the restoration costs could be high with no guarantee of success. It was a gamble. But their savvy friend approached the auctioneer afterwards and made an offer on behalf of Gary and James that was eventually accepted. Gary was especially proud of their acquisition and had this to say about it, "It was nice to know that this piece would become part of our collection and would stay here in Tryon." Luckily the restoring was a success; "Muir Fine Art restored the painting in Brevard, NC. They were recommended by Mike McCue as it is hard to find someone who restores water colors. After the painting was returned to us, it was amazing to see the vivid colors come back to life. The matting and re-framing were done by Ryan/Boyle of Saluda, NC" says James. Boy did that gamble pay off!

Gary and James are so invested in their artistic passion that on a recent trip to Paris they couldn't help but seek out a location mentioned in McCue's Paris & Tryon book. Gary says, "We thought we might try to find the place where the artist George C. Aid lived. We emailed Michael to ask for the address and he responded. Luckily, it was just a short walk from our hotel near Luxembourg Garden. When we arrived, we found the plaque in front of the building referencing the art history on that street. " There's that art bug again, biting and biting!
I found Gary and James' collection to be thrilling to say the least. I wondered how it made them feel? "A sense of accomplishment comes to mind. A reminder that hard work and perseverance can bring you to a different place in life. Who would think two people from humble beginnings would be Art Collectors?" says James. And when I asked what this collection represented to them they had this to say, "It is an important group of objects telling the history of this community. We would like the collection to stay together and we are working on plans to make that happen."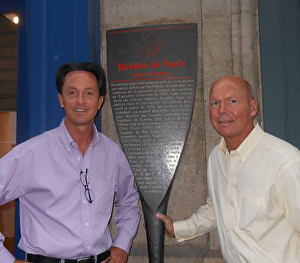 Gary Corn and James Blanton are such a gift to this community, I want to thank them for inviting me into Mill Farm Inn to view their collection and chat with me about their art. I loved every moment and I look forward to seeing how their collection continues to grow. Clearly their passion for preserving the past is being executed brilliantly. Gary and James, you are so significant!