Art is so much a part of our lives; whether you realize it or not, whether you collect it or not, whether you like it or not. It surrounds us. We live amidst multitudes of creative decisions that have been made by artists. Decisions that have been made yesterday, today, and hundreds of years ago. Paintings, illustrations, sculpture, architecture, advertising, landscaping, websites, television, music, automobiles, books, clothing… I could go on and on! And right now creativity is sparking in someone's imagination that you don't even know which will impact you at some point in the future. Isn't that crazy? I know! I love art!

Because of this amazingly creative nook of the world we live in and call home, I have had a spark of creativity myself! My goal is to interview people about what their own favorite piece of artwork is. Now this could be as grand as your Mother's portrait which hangs in your living room, or as simple as little Johnny's crayon drawing he did for your birthday when he was 3. I want to know what speaks to you and why. And in sharing that with the community, I hope to enrich or spark a bit a creativity in others as a result.

When thinking of my first interviewee, one person popped into my mind instantly and I'm such a lucky girl, he said yes. Lee Stockdale has been an avid art collector for much of his life. In his home he surrounds himself with things he loves; his family, a lot of artwork, and spectacular photographs that spark many conversations. Lee is an amazing writer and as of late an award-winning poet. Lee is also a blues musician. He plays harmonica, sings and writes songs. He is very active in our community with Tryon Writers, and emcees literary readings at the Upstairs Artspace. When I asked Lee what his favorite piece is he didn't hesitate. A painting called "Proof" by local artist Margaret Curtis was his immediate answer. An oil painting on board, spanning 7 feet wide and 3.5 feet tall, it is something to behold. "I can't tell you how honored I feel to have it in our home," Lee beamed.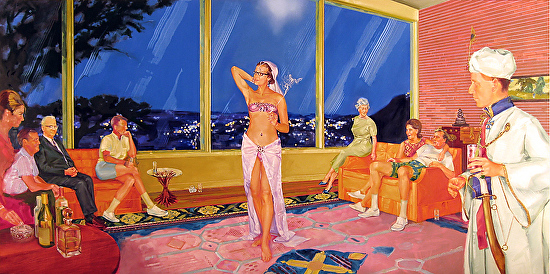 When I asked Lee why it was his favorite painting he had many reasons. "First, the woman in the middle of the painting is beautiful. She seems to be in her own world and she's just incredibly strong and confident there. She's the centerpiece. Everyone else revolves around her. All these other people, who I quickly understood to be family members related to the woman in the center, are all in various stages of delight or disapproval at her and what she's wearing and her attitude. Margaret captured each one of the nine individuals in such a way that they could all be on different planets. There's so much psychological information being conveyed. That's what fascinates me. But then it's just so colorful and detailed. The people are so alive you can almost hear their thoughts. I find myself standing and looking at it. I don't do that with any other painting we have." I love how much Lee shared with me when I asked him this question. He really thought about it, dug deep, and verbalized thoughts and feelings he hadn't before.

When probed about what the artist's actual goal was (aka the "Artists' Statement") on this piece, Lee had this to share: "I think she was trying to show how different these family members were, on what different wavelengths they were. This piece, to me, says 'heart.'The figure standing in the center is the heart of the painting. It is, in fact, Margaret's mother. Margaret appears to me to be acknowledging her mother as the center, the heart, of this very 'diverse' family, notwithstanding that some may be on Jupiter and some on Saturn. I also know that Margaret in fact used herself as the model for her mother. So it may be that she was drawing similarities between herself and her mother. I think the painting is a huge 'I love you' to her mother."

But beyond that goal of the artist, Lee feels that the painting speaks volumes more. "The mother figure could be 'every mother.' She certainly reminds me of my own mother, right down to the cigarette. But I think anyone could look at this painting and see their own family in it; a woman at the beating center of the heart of the family and everyone arrayed around her in various stages of acceptance, love, denial, understanding, misunderstanding, ridiculousness. It's got this great heart, but also this terrific absurdist sense of humor."

Analyzing the painting and what it says to each person is always interesting, but for me I always have another burning question; what moved you to buy it? "I knew I had to have it," Lee said. "When I saw it in person I immediately called my wife, Gail, and said 'It's huge and it's unbelievable.' It was like, oh, Lord, I know these people because it's my family, that archetypal quality. So it wasn't like we purchased a painting, it was like we opened the door and let the family in." Wow! So Lee found a painting that he felt was his family, even though it wasn't, and needed it to come home with him. That connection fascinates me. That's just awesome! I do believe that art speaks to people and that each piece is just waiting for its owner to come along and say "There you are, come home now."

Interestingly, this isn't even what Lee thought to be his favorite style of work; he typically prefers abstract and impressionistic pieces as Picasso is his favorite historical artist. I love that this piece spoke to him so profoundly, that what he thought he enjoyed didn't even matter. He also feels that "Margaret is moving in a direction in which she's creating her own unique style. This is what great artists do. No one else is doing what she's doing."

Lee has been a lifetime art lover, and he can regale such a great story. When I asked him the following question I was tickled that he had such an in-depth answer: "Has there ever been a show or exhibit that you have seen in your lifetime that you can still recall and if so, why has it stuck with you?" Lee answered, "Picasso's Guernica, at the Museum of Modern Art, in New York, about 1974. My mother had just married this fellow named Ted and we were getting to know each other. I more wary than he. One night we were talking and Ted started railing against Guernica, he thought it was very bad. He told me to go see it, so I did. Although it's a very famous piece, I did agree with Ted that it's not Picasso's best work. The piece has stuck with me because I was thrilled that my mother would marry a man who had such passionate feelings about Picasso one way or the other. I thought: we're going to be good friends. We were." I think it's remarkable that a hearty debate over a painting gave Lee a premonition that came to fruition. Art does unusual things for people.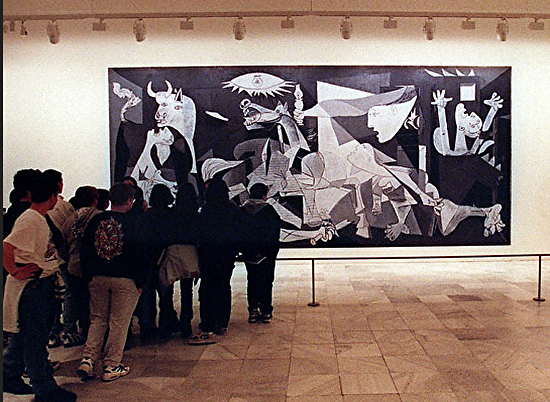 Along the same lines of exhibits that have touched Lee, I wanted to know if any galleries or museums have ever struck a special chord with him? "Yes, the Andy Warhol Museum in Pittsburgh. Seven floors. Edgy, colorful, historical, fascinating. Gail and I spent 3 or 4 hours there. I could spend every day for a month. I think I'm not kidding." There you have it. I know I will have to get to Pittsburgh and test out his recommendation, and compare notes with Lee on how long I trail the halls and walls of Warhol.

As I wrapped up my questions with Lee I did have one final query about educating our youth in the arts, and how important he feels that is? "We have an enormous responsibility to recognize talent and nurture young artists in both our schools and in our families. I feel a personal responsibility to educate kids regarding poetry. I'm trying to figure out how to do that, because poetry has the power to cut through so much and get to the heart of things kids are going through. We all have to do what we can." I agree with Lee wholeheartedly. Being more visual arts centered, I hadn't really thought of poetry being an outlet for our youth either. Great insight Lee!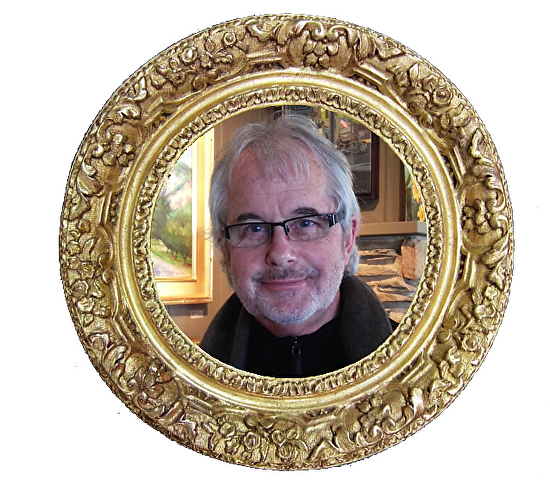 I want to thank Lee Stockdale for being my first interviewee. His answers to my questions more than exceeded my expectations for my initial article. Shockingly, there were many more questions and great answers, but I tried to keep this short (ha!), so they will stay with me. I hope this interview has enlightened, inspired, and sparked something creative in us all. I hope it makes us look a little more deeply into the art that surrounds us and think about what we enjoy, or even dislike about it. After all, anything art can do for us is a gift.