Aren't surprises just the best? Loved ones feel so special when we take the time beforehand to plan for an upcoming occasion. So often we let birthdays or anniversaries creep up on us, and before we know it we're searching for that perfect something to say 'we love you'. A little forethought always helps, otherwise we're wrapping whatever the mass superstores had on sale that week at the last minute!
Case in point: A wonderful wife, Caroline, came in to the gallery three weeks before her husband's birthday. She was searching for a special gift representing a familiar and fond scene to her husband; the Tryon Tomato Fields. We had it! Original art makes for the most memorable gifts, and when it evokes a sentimental feeling as well... perfect!
Next we planned the scene! Caroline wanted to really surprise her husband Austin so we set a plan into action. On his actual birthday she took him out for the day and suggested they shop around town a bit. They casually stopped in. Caroline, the perfect actress, mentioned their desire to come in and see the new gallery in town. Pleasantly she commented on everything as if she'd never seen it before. Oh, she's good! I casually placed Austin's boxed gift onto the center table, and waited for Caroline's direction. After a bit of conversation and looking around the gallery, she announced to Austin that he had something waiting for him on the table. A huge smile broke across his initially bewildered face and he gleefully opened his box. He loved it! It was the sweetest thing I'd ever seen.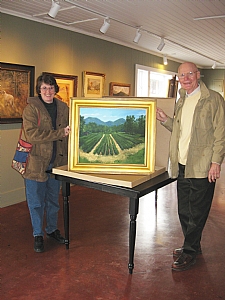 We can all take a cue from Caroline. The next time you want to make sure to put a smile on your loved one's face, stop in and we'll be happy to help set your scene!
Comment on or Share this Article →
---
The day we waited for came and went with a bang! Our Open House on New Year's Day was truly a day to remember!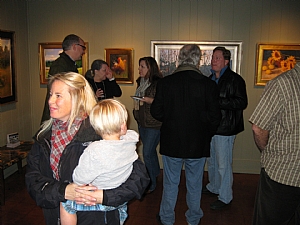 Hundreds turned out for our grand opening on 1-1-11 @ 1pm. The rain poured all day long, but that didn't keep away true art lovers. So many came to congratulate us, see the art, and ring in the New Year with a common goal in mind; enjoy the newest gallery in town. "Museum quality" is what I heard over and over again. Everyone was so genuinely happy to have such a high level of artists
from the past and present represented.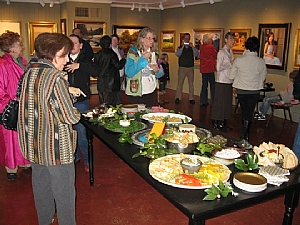 The Open House lasted for 4 hours, and the traffic didn't slow up until just before closing. It was such a treat to see so many old friends, and meet some new ones. We want to thank Pamela McCarthy, Connie Knirk, and Amy Jackson for their assistance during the opening. We couldn't have done it without you!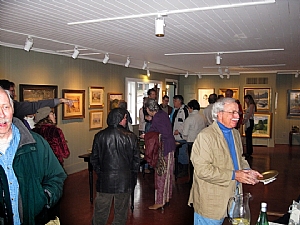 And I want to thank my husband Rich! Without all of his help getting the gallery going, setting up the website, and (let's not forget) his artwork, it just wouldn't have been possible. This is going to be quite an adventure together!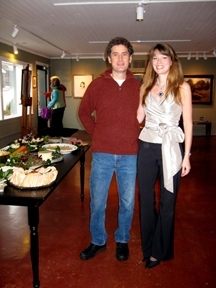 Comment on or Share this Article →
---