As we prepared our gallery for the concert to begin, we really had no idea what to expect. We worked for and hoped for the best; promoting it, chatting it up to friends, arranging for enough folding chairs to be available (thank you TFAC!), and grocery shopped for it. But of course, it being our first, we had no idea what to expect, or if even something drastically, well, 'bad', could happen. Ok-I'll admit, I was very,very nervous.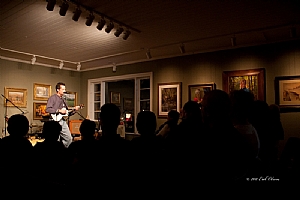 Let me just say, perfection doesn't even come close to what we all experienced last Saturday night here at our little fine art gallery. Seriously, we could not have asked for a more perfect experience. The performers came early to set up and sound check; all good. I set up the chairs, and set out food and beverages; all good. The doors opened and guests started to arrive; wonderful. Guests mingled, chatted amongst themselves, met new friends, and enjoyed the artwork by our amazing professional artists that we show; even better. Then, it began-perfect!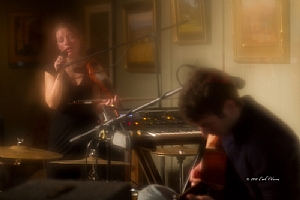 First Jay Lichty entertained us with not only his singing and guitar & ukulele playing, but also his stories and humor. Thank you so much Jay for an amazing opening performance. It is truly remarkable that you sing, play, and make your own instruments. View his stunning handmade guitars and ukuleles here.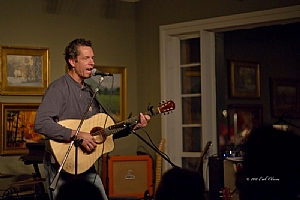 The StereoFidelics then took the stage and boy did they ever! I still am amazed at how just two performers can create such a sound as theirs. Melissa plays the violin, and drums, and sings-often at the same time! I even caught her using her bow on her cymbals! Her shoes come on, they come off, then on again-whoosh she's at the drums with bare feet banging away, then she's in heels standing with her violin! Chris never gets up, the lazy thing! He just plays guitar, sings, and plays bass with his feet! Geez! These two are amazing! They write their own music, and recently bought a very historic home right here in downtown Tryon. You can visit their website here.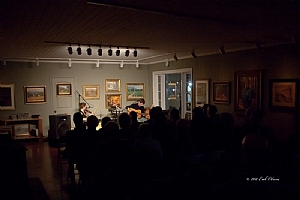 We could not have asked for a better night. The acoustics were amazing, and guests couldn't stop commenting on how wonderful it was to hear such fantastic performers while being surrounded by such beautiful artwork. Lawrence Mazzanovich hung over Melissa as she played the drums, and plein air landscapes by Richard Oversmith, Richard Christian Nelson, and William Jameson were the band's other background art. Truly, a perfect evening.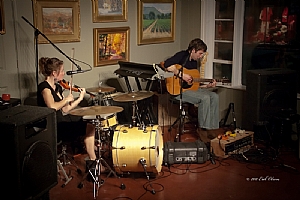 We would like to thank everyone who bought tickets and donated additionally to the fund for art supplies to Tryon Elementary's Artroom. A donation of supplies will be made soon to Clara Rogers for this effort. I would like to personally thank the performers for entertaining us with their talents. I would also like to thank TFAC for the donation of the chairs, Michael McCarthy for delivering them, and Gail Stockdale for the delicious desserts she donated to the food table. Also, great big thanks to Erik Olsen photography for shooting the event and producing these amazing photographs seen here. Please visit his site here.