---
---
---
Skyuka Fine Art had the pleasure, and oh what a pleasure it was, of having noted local art historian Michael McCue give its first lecture. The topic? A History of Selling Art in Tryon- Patrons, Artists and Venues. Rain and wind threatened but art lovers were undeterred and braved the Wizard Of Oz-like weather nonetheless. Remarkably and almost on cue, the sun broke through the clouds just as the lecture began.
Mr. McCue not only lived in Tryon for years, but he also ran his own commercial art gallery PhotoGraphia. He is a gradate of Harvard College where he received his MBA and also studied art history. His home in Tryon happened to be the former cottage of author and artist Margaret Morley (1858-1923). McCue has curated numerous shows in Western North Carolina galleries and museums. He has authored exhibition catalogs and articles for publications on the arts, and has also written and published two books centered around Tryon artists. Michael loves the rich history of this area's artistic impact throughout the years and has studied and researched it extensively making him an authority on the subject.
Michael's pleasant demeanor and casual way of speaking helped to make what could have been a very formal experience extremely light and enjoyable. He touched on mainly local venues and the artists that showed in them, focusing on how the artists represented themselves and ultimately sold their art. He also discussed what made Tryon the magnet that it was for artists.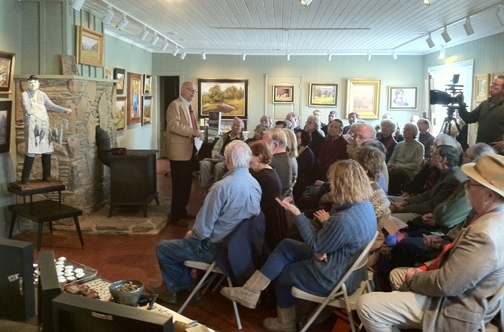 According to Michael, it really started with Emma Payne Erskine (1854-1924), who was an artist as well as the daughter of a famous artist in Chicago. She sold her art to help benefit the building of the Lanier Library which soon became a venue for showing artwork as well. Lois Wilcox (1889-1958), another prominent female artist and a Tryon native, was quite talented. Her father ran the Mimosa Inn. She moved to New York and became associated with the Woodstock Colony. She also had a one-person show at the Detroit Institute of Arts when she was a teenager, where over 20 of her paintings were landscapes of Tryon! These paintings piqued the interest of other artists, drawing them to the area.
Another artist of note, Louis Rowell (1870-1928) lived on Melrose Circle and sold most of his work out of his home studio. He also showed in hotels in Atlanta, Asheville and New York and at the Lake Lanier Tea House. Rowell did a lot of bartering with his artwork which Mr. McCue notes is still a valid technique with many artists today.
Amelia Watson (1856-1934) was an early guest of William Gillette, the well known actor who lived in Tryon, and loved it so much she stayed. She was a nationally know professional artist already when she arrived which is rare for a woman of her time. She also moved to Melrose Circle and she drew people here just by her name, helping to propel Tryon's reputation as an artists' community. She very successfully sold her paintings in an unusual form of "trunk shows". She would be invited into people's homes and she would exhibit them on their walls. She was known to sell out completely during these "trunk shows"!
Lawrence Mazzanovich (1871-1959) also showed at the Lanier Library. He moved here in 1922 and became Tryon's most famous artist. George C. Aid (1872-1938) lived on and ran a vineyard here in Tryon but did not paint there; his studio was on the property of the Pine Crest Inn. He also ran a small art academy out of his studio which was the only one of its kind in the area. George Aid propelled his career by painting portraits. He was known for his "french chalks" as well as his oils.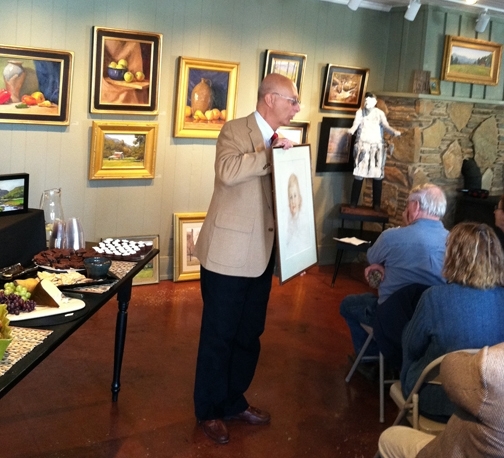 Homer Ellertson (1892-1935) was a nationally known modernist artist who lived in a house with a tower he built in Gillette Woods. They were great entertainers, and many famous people visited him. He sold much of his work from Tryon and is in museums all over the country. The most famous collector to visit him was Duncan Phillips, the founder of the Phillips Collection in Washington D.C. He purchased two Ellertsons and they are in the collection, usually not on display but in storage. Amelia Van Buren (1856-1942), a painter and photographer, was a student of Thomas Eakins and became a friend of his, and his wife. Eakins did a portrait of Amelia and gave it to her. When she moved to Tryon she had it in her home. It now hangs in the Phillips Collection because Duncan Phillips got wind that the Eakins portrait was in Tryon while on his visit acquiring the two Ellertsons. He made Amelia an offer she couldn't refuse!
Jean Stansbury Holden (1842-1934) was a very talented artist from Michigan who moved to Tryon in 1907. She organized a two day show at the Lanier Library in 1910 that showcased the community's privately owned fine art. She did this previously in Detroit well before there was a Detroit Institute of Arts. That show was the catalyst in raising funds to build the well known Detroit museum.
Charles Quest (1904-1993) was a major artist; the retired chair of the art faculty at Washington University in St. Louis. He was very well known for mid-century, highly textured still lifes. He really helped put Tryon on the map. Elisabeth Paxton Oliver (1891-1977), or E. Paxton Oliver as she is more widely known, also helped establish Tryon as an artists' community. She was an instructor at the High Museum of Art in Atlanta. She is most famous for her bird paintings. Her prints of them were highly collectable.
Local venues that represented and supported the arts were The Mountain Industries, which was a business that promoted and sold local crafts and local fine art, and the Blue Ridge Weavers in the 20's, 30's, and 40's, which also sold fine arts and crafts. The Rock House Art Gallery was right across from the train depot. It was owned by Mrs. B. King Couper (1867-1957), an artist who had her studio and gallery there. As far as Mike can tell, this was the only commercial gallery dedicated to fine art in the entire state of North Carolina during the Depression. The Episcopal Church Parish House was also a venue for local artists. Many art shows and social engagements occurred there. Tryon had really developed a name for itself as a magnet for great artists and regional papers started writing about it, which drew more patrons and artists.
About mid-lecture a guest spoke up and mentioned that she happened to bring in a special piece of artwork that was in her Aunt's closet for years! It was a piece called "A Breezy Day" by Mrs. B. King Couper, sold from the Rock House Art Gallery in 1935 for $300! It even had the very descriptive label affixed onto the back shown here. The painting was of a charming cottage home surrounded by rocks and lovely natural landscaping. The technique is a delightful and colorful painterly application with a pastel hued pallet. Mr. McCue was visibly tickled by the surprise entry into the lecture and suggested we all go home and look in our closets for more!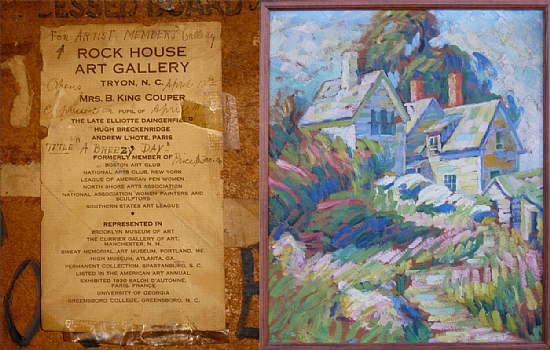 Michael continued his subject of venues with The Upstairs Gallery which came about in the 70's. It really was a venue for the avant garde artists and emerging artists. It was developed as a non-profit which was also a first in this region. The Tryon Fine Arts Center was built completely by the community in the 1960's, with no public money at all. Tryon Arts and Crafts and Tryon Painters and Sculptors eventually became umbrellaed under TFAC as well, cementing Tryon's art impact in the area. Trade Street Gallery was also opened in the 1970's and showed Philip Dusenbury who is a nationally known sculptor still living here.
Michael McCue wrapped up by mentioning that with our new gallery, Skyuka Fine Art, we are part of a long line of artists who not only painted in the Tryon area, but also marketed themselves in one way or another. It warmed our hearts and made us proud to be put in such an illustrious category as the well known painters Mr. McCue is so knowledgeable of and spoke so entertainingly about. Thank you Michael McCue!
(Post lecture Mr. McCue had some edits for his information: "Charles Quest's huge painting on public display isn't at the Tryon Presbyterian church, it's at Congregational church. Lois Wilcox didn't work in New York with Diego Rivera, she worked there with Jose C. Orozco. By the way, hundreds of hungry artist applicants applied to work with Orozco, and it was a great honor to be selected as his assistant & collaborator for the murals at the New School for Social Research, which are still there, I think, but I haven't seen them. They aren't the controversial murals for Rockefeller Center by Rivera, which were famously paid for and then immediately obliterated by the client.")
Comment on or Share this Article →
---