The Tryon Gallery Trots here in downtown Tryon have truly blossomed. With new businesses opening, businesses relocating more centrally to downtown, and more merchants opening their doors for the evening the Trot couldn't have asked for a better kick off season.
The Upstairs Artspace's new exhibits "Curvature and Color", "Carolina the Beautiful", and "Cassie Ryalls: New Work" really wowed the crowds. Paintings, photographs and figurative sculptures make for an exceptionally well rounded, colorful and detailed exhibit. The Upstairs enjoyed a full house throughout the entire Trot.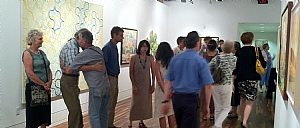 Skyuka Fine Art's live charcoal portrait demonstration was a refreshing addition to the Trot. Rich Nelson's subject; son Lucas, was a very steady and attractive model. Rich discussed his technique and answered questions from curious viewers who also enjoyed the current exhibit "Women of Western North Carolina".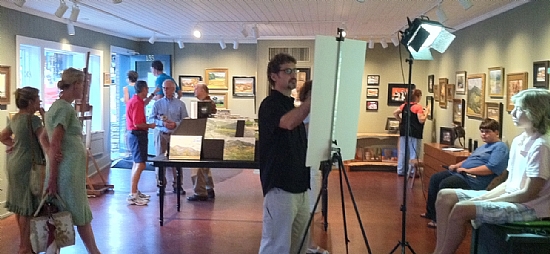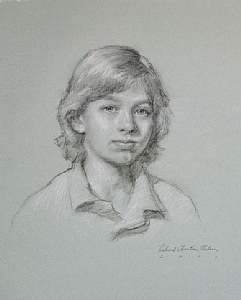 Tryon Painters and Sculptors once again welcomed a nice group of art lovers coming to see their latest Members' Show. Since moving to downtown onto Maple St., TP & S has seen a dramatic rise in visitors to the new gallery. A wide variety of styles and mediums are displayed in this lovely first Members' Show in their new space.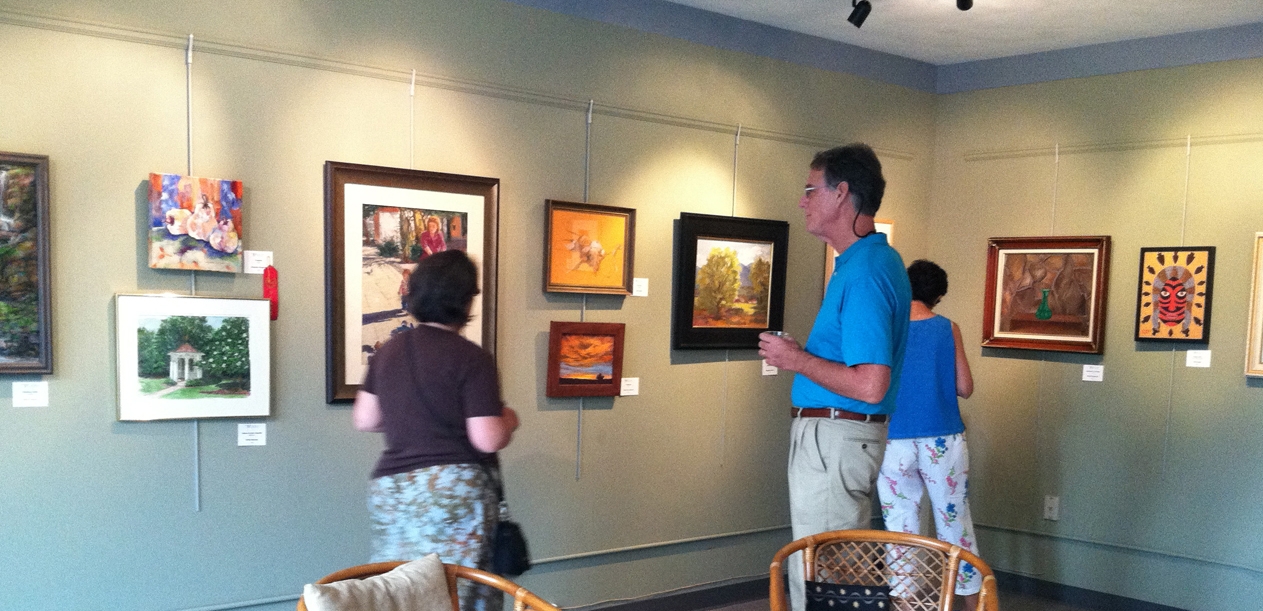 Kathleen's "Burnsville Potter-Claudia Dunaway", and "Real and Faux-Teddy Bears by Linda Boiter" opening was a huge success. Many guests brought in special family furs looking to breathe new life into them by creating lovable, extremely cuddly teddies.
Vines and Stuff and Green River Gallery hosted late hours, while Kiveo introduced a new selection of Bob Neely works on their expansive walls. Richard Baker's lovely new studio is so inviting, one simply doesn't want to leave; comfortable seating makes for great viewing of his newer local landscapes.
Two new businesses participating in this recent Trot were Outdoor Living by Bravo, and Dom and Pat Ferullo's new studio and workshop space on Pacolet St. With more artists, a design studio, the new ice cream store 'One Scoop at a Time', and the new 'Cafe My Place' in town, the Trots are drawing larger and larger crowds. Don't miss the final scheduled Trot coming on October 8th.